The War Lord
takes place in roughly the same time period as
El Cid
, though in a different part of Europe; in some ways, it's like a smaller pared-down version of the big epic, without the huge crowd scenes and a more intimate focus on one patch of land. There's a moody strange atmosphere - the area to which favored knight Chrysagon (Heston) has arrived with his retinue to take charge. Maybe I'm just a sucker for films set in medieval times, but this one seems more realistic than others I've seen depicting that time frame.
This is also my favorite Heston performance, because he actually loses himself in the role in a few places - he is that knight of the 11th century in a few scenes; this may be strange to hear, as why would I favor a role such as this when this Board is all about being Heston? After all, we watch and favor films here that show off Heston, his unique persona. However, the fact that he made me forget that it was Heston in a few scenes - not an easy thing to do, to put it mildly - really impressed me and continues to. I think he really
'got into'
this character when this was filmed.
_____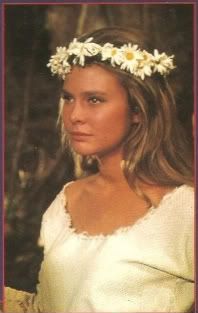 The rest of the cast is also first rate: top of the list is Guy Stockwell as Heston's irritable younger brother; he's tremendous. Boone is his usually ornery self - great to watch; Maurice Evans as the local priest - he returned to screen acting here after a long absence; James Farentino in a very early role as a young peasant - quite intense in some scenes; and Rosemary Forsyth as the peasant girl Heston falls for. That's another thing - this film allowed Heston to be more viscerally amorous and vulnerable than in any of his other roles; usually he's sort of above all that; here he is tragically human despite his prowess as a warrior & commander.
There's also some great choreography in the combat scenes; there's an early battle scene when Heston and his men attack some invaders (led by Henry Wilcoxin) and I'm always surprised at the complex & involved moves displayed here in what are usually typical swordfights in other films. The director, Schaffner, would return to direct Heston in
Planet of the Apes
soon afterward.