itsjudah24 wrote:
That they were not getting well on together was good for the movie, I feel. Exactly that was the problem between the Pope and the Artist... the Pope wanted to control the Artist but could not curb his dignity and spirit. In trying to exercise his power, the Pope rather lowered his own dignity. I wonder how Harrison could think that his character was to be the main protagonist, didn't he even read the original book by Irving Stone, which is all about the unknown stoy of Michelangelo?
I just watched this one again the other day (I finally got the DVD which came out 5-6 years ago; it was cheap, about $8).
I agree that Heston and Harrison worked incredibly well together as the two characters and this probably was due to their on set friction. Everything I've read about Harrison over the many years indicates that he could be very prickly and testy in real life, but this really suited his Pope character. One of the most memorable scenes for me out of all Heston films is the one when Pope Julius loses all patience with Michelangelo and strikes him (Michelangelo says "Will not" to the Pope; the Pope yells "
Will not?! Will not?!?
!"). It's probably one of the most effective scenes ever done, due in part to Harrison's and Heston's actual personalities.
This was also a very unusual role for Heston, playing the artist who must continually bend to the authority of the Pope and even behave meekly in some scenes (despite his arrogance - can't be too arrogant towards the Pope); usually Heston is the one in authority and is never meek. But, in a strange way, it anticipates his Taylor in
PLANET OF THE APES
, who ends up on the lowest rung of the culture of the Apes.
The film is very picturesque in places and a good DVD picture is ideal to see such a film; some very nice cinematography. The more effective scenes, though, are the small, personal ones, such as when Michelangelo is painting the ceiling and there's paint all over him as he concentrates on his work; later, he collapses from fatigue.
__________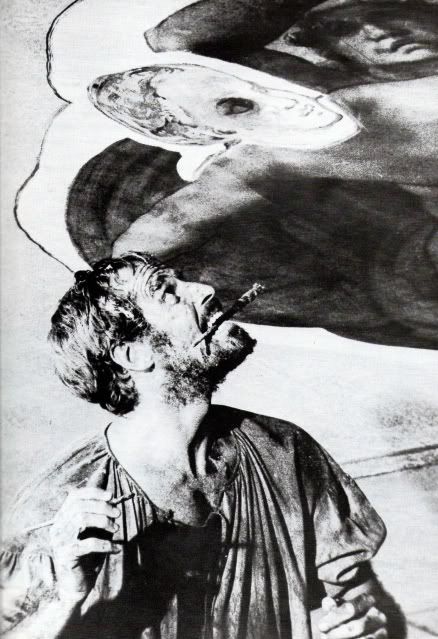 As for how Harrison could think that his character was to be the main protagonist... I can only go back to my suggestion that it was all about star egos. I wouldn't put it past it some stars to actually rewrite books and rewrite history to satisfy their large egos. That's Hollywood.