One of the earliest books about movie stars that I purchased was a softcover called
THE ILLUSTRATED ENCYCLOPEDIA OF THE WORLD'S GREAT MOVIE STARS
, way back in 1980. It divided its alphabetical selections into 3 sections - SILENT, CLASSIC and MODERN. After perusing this volume for a bit those many years ago, I decided to look up the entry for Sean Connery (in the MODERN section) and was surprised to see that there wasn't one. It took me a few more minutes to find the entry - to my surprise - on James Bond; in this book, the writer decided to place Sean Connery & Roger Moore in one entry simply titled "James Bond," listed right after Dirk Bogarde, as if killing two birds with one stone.
__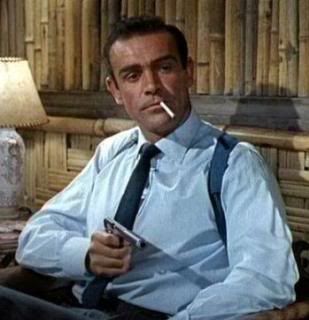 I found that to be a little insulting - all the other stars in the book were listed under their proper names - well, except for Tarzan in the CLASSIC section. Now, this was 1980 and Connery did not have a huge body of work yet after his Bond films, while Moore was still in the middle of his Bond days, but it still looked strange. Connery did make a few films before first playing Bond, a few more in the same years as Bond and quite few more after, eventually completing a long career that equals those of the greatest movie stars. But, his best known role will always be the secret agent he played in 7 films; if there was ever a sense of destiny and perfection in matching the right actor to a famous role, it was Connery as 007 in
Dr. No
(1962).
_________
__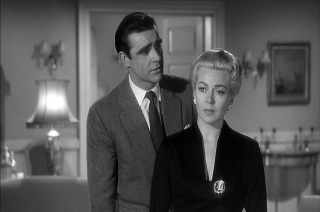 Connery was tall (6' 2" & a bit) and in very good shape as a young man; he labored as a lifeguard and coffin polisher, then tried bodybuilding. He was good enough to represent Scotland in the 1953 Mr. Universe contest (he placed 3rd). Almost by chance, he joined a year-long stage tour of
South Pacific
as one of the sailor singers and the acting bug took hold. His TV debut was in the 1956 telecast of
The Escaper's Club
, which co-starred Robert Shaw, his co-star in a couple of future key films. In 1957, Connery auditioned for the main role in a live BBC production of Rod Serling's
Requiem For a Heavyweight
and, to his surprise, won the role (it was re-titled
Blood Money
in the UK). He was paid little - £25 - but after his performance, some movie offers began to roll in.
_________
Besides a few TV movies, he had small roles in
No Road Back
,
Hell Drivers
and
Action of the Tiger
(all 1957) - these tended to show his brash, rough, even shady side. This changed for his first substantial role, as a news correspondent and Lana Turner's lover in
Another Time, Another Place
(58), a sudsy melodrama during the end of WW2. His credit was 4th, as "introducing Sean Connery," and he showed some polish. Next, he won a big role in the Disney fantasy
Darby O'Gill and the Little People
(59). He also played a 2nd-rank villain in the latest Tarzan thriller,
Tarzan's Greatest Adventure
, one of the best entries in that series; Anthony Quayle played the main heavy. Connery was credited 3rd in
The Frightened City
(61), a small British crime drama, and this is when his potential as a leading man really showed - even though he played a criminal enforcer, his was the central role which drove most of the film and even garnered audience sympathy, that '
he's-not-so-bad
' kind of character. He was 2nd lead in
On the Fiddle
a.k.a.
Operation Snafu
, a British comedy about a couple of con men in the army. Finally, he was part of the huge cast in the D-Day epic
The Longest Day
, as one of the soldiers.
____________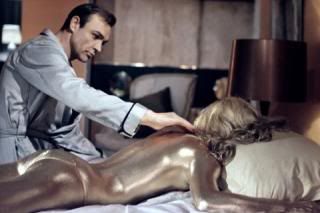 This just occurred to me a few days ago - that Connery was like a combination of Brando and Heston. One of the reasons for his great success as Bond was the simmering ferocity, the suggestion of a lethal capability (which is why he was good as criminal types in early roles), as well as a lady-killer, a quality noted by producer Cubby Broccoli's wife, even though she first saw him in the Darby O'Gill film, in which he played a simple farmer. There was also the potent masculinity, and Connery was about the same size as Heston. As with all fans, I have my Bond favorites; I think the best is still
Goldfinger
(64) - it's like the ultimate Bond film. A close 2nd is
From Russia With Love
(63), in which Connery was already comfortable in the role, like a seasoned spy. Then, the very first one,
Dr. No
. After that it's a toss up, though I guess
Thunderball
(65) has the edge for its extravagance as the biggest Bonder. At that point, Connery was listed as the no.1 star, the only British actor to ever be #1 in the USA. He began to look bored in
You Only Live Twice
(67), which had his ultra agent poking around Japan and finally meeting Blofeld. He quit the film series for the next one and was convinced to return for
Diamonds Are Forever
(71), which was a bit too cutesy in-and-around Vegas.
___________
_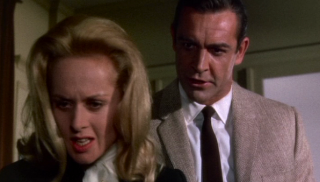 ____
Connery did star in other films in-between the Bonders, anxious as he was to expand his repertoire - after all, as lucrative as the Bond role was, it could have severely limited him. These other films included a Hitchcock film,
Marnie
(64), in which Connery was a businessman trying to help a kleptomaniac (Tippi Hedren), and
Woman of Straw
, in which he 'helped' Gina Lollobrigida. His best film at this time might be
The Hill
(65), as a military prisoner in a prison camp. He also tried the role of a loud, angry poet in the serio-comical
A Fine Madness
(66), but this was not an easy fit for him. Likewise, he seemed out of place in the big-budget western,
Shalako
(68); he was among a bevy of big stars (Bardot, Stephen Boyd, Honor Blackman) and even had a fight-to-the-death with Woody Strode, but something just didn't click. Also, for some reason, I always expected and would have preferred Connery bearded or unshaven in this role, befitting such a western character. He looked like James Bond disguised as a cowboy in this.
____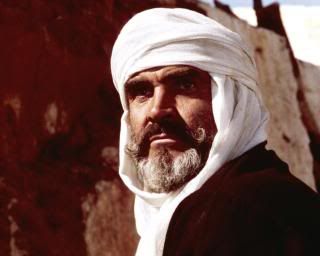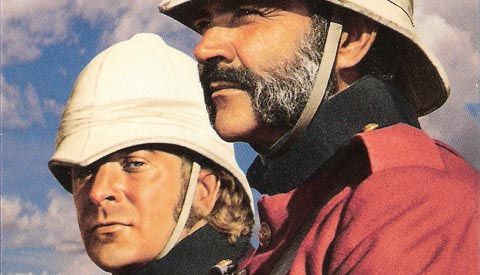 It's evident now that Connery went out of his way to portray less-heroic characters in his post-Bond phase, expanding his range or getting back to his roots. Hence, he was a professional thief in
The Anderson Tapes
(71) and a troubled cop in
The Offence
(72), in which he wasn't above abusing a suspect (also, his personal favorite role). And, as Zed the barbarian, he was a brutal killer of a far future in
Zardoz
(74). He also played a ruthless criminal - a thief again - in
The Great Train Robbery
(78). Connery's best roles of this period, however, were in a couple of late epics in the middle of the decade, in roles that used to be played by stars like Heston and Yul Brynner. In
The Wind and the Lion
(75), he was an exotic brigand in 1904 who kidnaps an American lady. In
The Man Who Would be King
(75), he teamed with Michael Caine as mercenaries in the late 19th century who seek fortune in an unusual manner. He also played an aging Robin Hood in
Robin and Marian
(76) - many don't like this variation on the Robin Hood legend but I thought Connery and the other stars brought some elegance and wry humor to their roles.
__________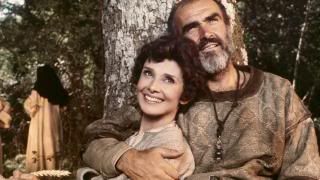 __
Speaking of aging, Connery seemed to suddenly age quite severely in the seventies. Only a few years earlier, he was the virile secret agent; now, he would play his roles without a hairpiece and with a grey beard, looking 20 years older. It was also telling that he turned to roles in sci-fi films, the first sign with many stars that their best years are behind them. He starred in the disaster pic and commercial failure
Meteor
(79), then tried a High Noon-in-outer space role in
Outland
(81). There was also the dark-humored
Wrong is Right
(82). By the time of
Time Bandits
,
Sword of the Valiant
(84) and
Highlander
(86), Connery was relegated to special supporting roles, but his strong charisma still shown through and he was the highlight of the films. So, he was still considered big enough to try the Bond role one more time, in the pale imitation of the usual Bond films,
Never Say Never Again
(83).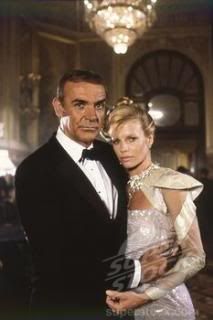 Connery went on to another supporting role in
The Untouchables
(87) and something unusual happened. He won the Oscar for his role as a tough Irish cop and it was as if everyone suddenly realized that he was still a big star. He went on to headline the thrillers
The Presidio
(88),
The Hunt For Red October
(90) and
The Russia House
. He did play a fatherly figure to great effect in
Indiana Jones and the Last Crusade
(89), but most of his roles remained as the heroic leading man. Connery seemed to stop aging at this point; sure, his beard was going white and the wrinkles were apparent, but he looked tough and in good shape, and appeared frozen in this '
tough old guy
' persona all through the nineties. He was an effective leading man in
Medicine Man
(92),
Rising Sun
(93),
Just Cause
(95), as King Arthur in
First Knight
(95), fantastic in
The Rock
(96) and with the much younger Catherine Zeta-Jones in
Entrapment
(99) - could only Connery make a believable romantic lead at his age? Possibly so.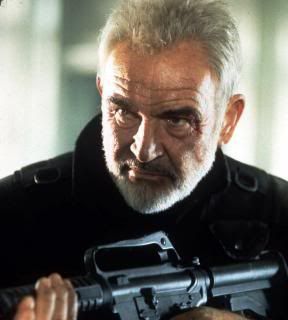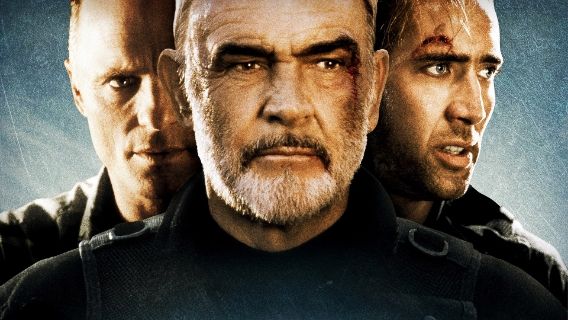 Connery capped off his film career in a role emblematic of all his heroic roles, as the legendary Allan Quatermain in
The League of Extraordinary Gentlemen
(2003). He was fine in it, as usual, but the film suffered from the reliance on computer FX and Connery had problems with the director. He was still at the top of his game, commanding a huge salary ($17 million), but decided to call it quits, fed up with all the idiocy of modern filmmaking. His impatience was often reflected in his roles - he seemed the type that didn't suffer fools and he was someone you just didn't want to trifle with. It was almost as if he had a license to kill in all of his roles.
Connery is now the same age as Heston was when he passed away and is still enjoying his retirement.