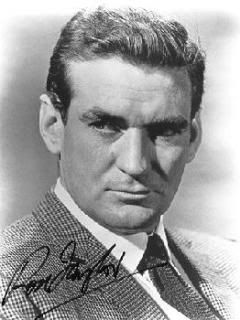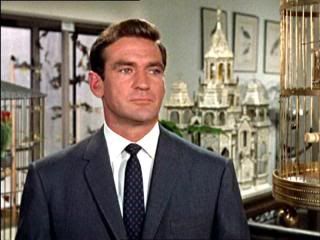 Rod Taylor, before he became a Hollywood star, got his start in Australia and this makes him the precursor of such later stars as Mel Gibson and Russell Crowe, who also hailed from down under. Nowadays, there are Aussie stars a'plenty, but in Rod's time, it was rare. The only big stars from there who preceded him were Errol Flynn and Peter Finch (though there were numerous character actors like Cecil Kellaway and Michael Pate), so Rod was a rare bird - in more ways than one. As it states at
The Complete Rod Taylor Site
>
http://www.rodtaylorsite.com/whyrod.shtml
- there's no one else like him.
He was born in Lidcombe, a suburb of Sydney, on January 11, 1930, to Bill Sturt Taylor and his wife Mona. A gifted athlete and academically excelling at an early age, he was also described as a "show-off" and having a swagger - always an actor when dramatically playing cowboys & Indians. Yet, he didn't show any interest in acting as a profession into his teen years, instead having a passion for drawing and art. This creative side he seems to have inherited from his writer mother, while the taste for alcohol and rough edges were from his construction contractor dad - though his father was also a commercial artist. His academic record enabled him to go to a selective high school, one requiring a test, and there he excelled at individual sports, such as holding a record for shot-put and being a champion swimmer.
He did show some signs of being aware of the acting world during high school, such as imitating Errol Flynn, but there was nothing serious there. Though he had the option of staying on two more years, he left HS as 1944 ended and, encouraged by his parents, elected to study art at East Sydney Technical College in the inner-city suburb of Darlinghurst - this was the late forties. There, he developed a reputation as a lady-killer and even as a kind of Greek god due to his impressive physique (he posed for art classes), but he was also known for his well-mannered, intellectual approach. Later, he added boxing to his athletic pursuits, which would serve him well in his later action roles in film. He also began to hang out at the Mona Vale Surf Club on weekends, where he "learnt about life" from the oafs and hoodlums who abounded there.
Rod was obviously in good shape as a young man>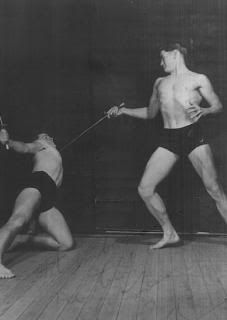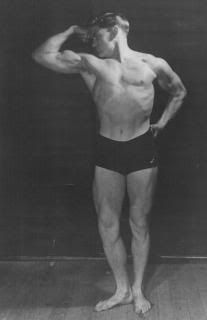 The overall picture of Rod at this art school, however, was that he took it less seriously than most - he was expelled after 3 years, for reasons unclear; rumor has it he flung clay at someone, but he did confirm his expulsion in a 1973 interview. He did try to make a go of being an artist for a living, sharing a flat with 3 others in a pottery business which only lasted about a year. The partnership dissolved and Rod found that his interest in painting was waning; instead, his new passion was acting. As Rod himself has claimed, the one person most responsible for igniting his interest in acting was Laurence Olivier. In 1948, Olivier and his wife Vivien Leigh toured Australia and New Zealand with the Old Vic Company. For anyone even slightly interested in acting, the visit must have been a galvanizing experience.
Rod's parents were not happy with this development, but he began taking acting lessons at the Independent Theatre School of Dramatic Art in North Sydney. Studying was one thing, but getting actual work was something else. Radio was flourishing at this time and that's where Rod got his start - 1945 to 1955 are known in broadcasting today as the "Golden Age" of Australian radio drama. Rod was credited as Rodney Taylor during these years; it was also when he indulged in heavy social drinking - some of this was for the career, the contacts. So, in the early 1950s, Rod Taylor's two identities began to emerge: the tough, beer-drinking "Rod" of the pub and the smooth, plum-voiced "Rodney" of the microphone. He also received his most important training from the husband-and-wife team of Georgie Sterling and John Saul. Besides reading Dickens and Shakespeare, he was instructed to study up on the new actors - Brando, Montgomery Clift, Rod Steiger, even Henry Fonda.
_____________________________________________________
Rod really admired Brando and singled out a famous scene from
On the Waterfront
as a favorite, watching it repeatedly. However, Rod did not fully embrace the "Method" form of acting, believing it to be a bit self-indulgent, preferring Fonda's technique of "disguise acting… not to let acting show." Eventually, Rod's personal style evolved into a mix of many things: take a bit of the Method, add a dash of training from the Independent Theatre, throw in some Stanislavski, mix in Henry Fonda and Brando, add dollops of Saul and Sterling, heat it up with a lot of Rod Taylor himself (the pubs, the physicality, the art) and add some seasoning through (it must be admitted) alcohol. Rod also did a little bit of stage acting in the early fifties, mainly for the Mercury Theatre, for which he did 5 shows. But, he left the stage behind forever after starting in film.
Rod's first experience in film ended up being in a 20-minute 1951 Australian quasi-documentary
Inland With Sturt
, which was a re-enactment of Sir Charles Sturt's 1829-1830 expedition down the Murrumbidgee and Murray Rivers. The six-week trip would follow the exact same route as Sturt and his crew, using a combination of personnel from the ABC and the armed forces. Rod replaced actor Charles Tingwell (who got a better offer) as Sturt's 2nd in command. Rod was actually related to the famous explorer (he was his great-great grandfather), but probably got the job due to his rowing abilities.
The Australian film industry, in which Rod first worked as a film actor, hardly existed in the fifties. It would not enjoy a surge until the late sixties. Rod's first feature film role was in
King of the Coral Sea
(1954), the 2nd of several fifties action B-movies starring Chips Rafferty. Rod had worked with writer/director Lee Robinson in radio and knew him socially, so he got the supporting role of a tough American in the film, supposedly written just for him. Rod's salary was £40 (about $80) a week - not much, but Rod enjoyed the experience, so much so that he asked to remain with the film unit filming at Thursday Island even after his role was completed. Because the Australian film world was so small then, Rod was already considered one of its male stars at this point, third only to Aussie actors Rafferty and Charles Tingwell. To emphasize this, Rod was already getting scripts written for him and he was cast in the only other feature film made in Australia that year,
Long John Silver
, the unofficial sequel to
Treasure Island
.
https://www.youtube.com/watch?v=bEMFlFzvPvo
Those familiar with the story of Treasure Island (including the 1990 TV remake with Heston) know that there's a character named Israel Hands, an abandoned pirate who returns in this sequel to haunt Jim Hawkins and is portrayed as some wild blind man of Borneo. Guy Doleman, the actor originally cast, asked for more money when he found out about the beard and contact lenses required for the role. Well, someone heard Rod on the radio and selected him as Guy's replacement. Now, the very young Rod had no business playing an old pirate but he threw himself into it, running over rocks, getting some minor injuries and once again enjoying it. Also that year -'54 - Rod got his luckiest break: winning the Rola Award for one of his radio roles. He received £500, a role in a radio play written especially for him — and a return ticket to England.
https://www.youtube.com/watch?v=3EhxqTgJc-Q
Many of Rod's associates advised him to go to England, where many Australian actors had set up shop, but Charles Tingwell suggested that he stop off in Los Angeles on his way and, after
Long John Silver
, all the advice changed to: go to America. Rod's timing was good - already mentioned was the moribund film industry in Australia and then radio drama was going to take a big hit when TV came around in Australia in 1956, mostly American TV shows. Rod had done all he could do in his homeland. Despite hurdles involving his passport, Rod made it out quickly, but all the promising stuff in L.A. quickly faded - MCA agents meeting him at the airport didn't like what they saw and several planned film projects fell through. Only
Hell on Frisco Bay
, a small crime noir in which Rod would play a henchman, was made as planned months later. Rod lived in a dreary little apartment and actually fished for his food. But, the work drought was brief - he was picked up by the Louis Shurr Agency and rep Wilt Melnick was instrumental in jump-starting Rod's career.
Rod's first role in a Hollywood feature was in
The Virgin Queen
(1955), a two-million-dollar epic from 20th Century-Fox concerning the relationship between Sir Walter Raleigh (Richard Todd) and Queen Elizabeth I (Bette Davis). Director Henry Koster needed someone who could speak in a Welsh accent for the small role of a corporal who delivers a message to Todd and Rod fitted the bill. Roughly half of Rod's roles in his first year in Hollywood saw him cast as an Englishman, notably the muscular astronaut in the entertaining sci-fi adventure
World Without End
(1956), which was a sizable heroic role for him (eerily anticipating his first starring role in another sci-fi adventure 4 years later) and showed that energized, boisterous side of him. But more impressive for his career was his small role in
Giant
(56), a huge $5.4 million adaptation of a best seller starring Elizabeth Taylor & Rock Hudson; Rod was able to act in a scene with them and got some good advice from preeminent director George Stevens.
Rod won a contract with MGM for $450 a week and meaty supporting roles followed in quick succession in
The Catered Affair
(56) and
Raintree County
(57), though these had a tepid reception. Rod had some financial security now, but he renegotiated the contract to allow him to take jobs outside the studio. This set the stage for Rod's phase as 2nd lead in TV and film for a couple of years, meaning roles like supporting the female lead or playing the best friend of the male lead, such as in the small thriller
Step Down to Terror
, the big drama
Separate Tables
(58) and the light comedy
Ask Any Girl
(59). For TV, he confined his roles to anthology series, such as for
Playhouse 90
(including a version of "
The Great Gatsby
") and the now-famous episode of
The Twilight Zone
,
And When the Sky Was Opened
. It was Rod's well-reviewed role in
Ask Any Girl
that caused MGM execs to look at him as the lead for their planned sci-fi film about time travel, based on a famous novel by H.G. Wells.
In
The Time Machine
(1960), from producer/director George Pal, Rod played the genius yet brawny inventor who journeys into the far future. It also introduced Yvette Mimieux and co-starred Alan Young. Rod hesitated in accepting this starring role because sci-fi was not known for furthering an actor's career. But, the result was great and an eventual classic - his character combined toughness with intellectualism, a mighty combo; everyone agreed that this really put Rod on the map. However, it also placed him in limbo for months due to the FX, which had to be worked out before release of the film. At this point, Rod finally tried a TV series as a weekly regular role -
Hong Kong
, as an American news correspondent in that city. He set high terms - a salary of $3,750 per episode, plus 15% of the profits - but these were accepted. Things were delayed due to a Writers & Actors strike; again in a kind of limbo, Rod accepted an offer to make a film in Italy -
Colossus and the Amazon Queen
, one of those sword-and-sandals movies. This seems like a bizarre choice now, but for Rod it was simply a paid vacation - he was in the middle of an intense affair with Anita Ekberg.
Rod claimed that it was written as a drama and that he rewrote it as a comedy, and would only do it if his script was used. It is now one of those films that every big actor has in their past - the one they would prefer everyone forgot.
Anyway, even though the show was canceled after one season, it was the
Hong Kong
series and the release of
The Time Machine
that made him a star. The series showed that Rod could hold center stage and emphasized his tough, rugged persona (perhaps better than any other of his roles). It did well in syndication and proved to be the 3rd most popular TV show in Australia. Rod also provided the voice for Pongo, the dog in the Disney animated film
101 Dalmatians
(1961); his experience in radio served him well here. Then he played Sir Francis Drake in
Seven Seas to Calais
(62), a swashbuckler which had him back in Italy and the closest he got to an Errol Flynn-type of role. At this point, Rod formed his own production company, Rodlor, with immediate plans for 2 films. At the same time, 20th Century Fox studio also announced a group of films for Rod. He filmed another TV pilot but nothing came of all these plans, for various reasons. Once again, Rod seemed to be in limbo. Then, he was contacted by Alfred Hitchcock.
For Hitchcock, Rod enacted the role of a tough, smart lawyer who is faced with mysterious attacks by birds, in the now-classic
The Birds
(1963). This solidified Rod's status as one of the top young leading men in Hollywood; in his own words, he was "made." He had many commitments to different movie companies. The first was
A Gathering of Eagles
(63), playing 2nd fiddle to Rock Hudson (then nearly the most popular actor) involving SAC (Strategic Air Command). Rod worked mostly for MGM in the remainder of the sixties:
The V.I.P.s
(63) was even more an indication that Rod had arrived, a star-studded (Burton & Taylor, Liz Taylor that is) big picture with Rod in the center of it all and actually playing an Australian for the first time.
Sunday in New York
paired him with Jane Fonda in a romantic comedy.
Fate is the Hunter
(64) had him again supporting a bigger star, Glenn Ford, as a pilot involved in a mysterious airplane crash. And, in the intriguing war thriller
36 Hours
(1965), Rod was 2nd to James Garner in sort of a sympathetic villain role. Though he was not the main lead in this past year of films, these were all good roles, at times better than the leads.
Finally, Rod began to star in films as the main lead, beginning with one of his most important roles, a famous Irish playwright in
Young Cassidy
(65). This was a biographical film and rested squarely on Rod's shoulders. More, it was to be directed by the legendary John Ford. But, Ford became ill after 2 weeks of filming and was replaced with Jack Cardiff. There were numerous other problems while filming in Ireland but it remains one of Rod's personal favorites. He was paired with the very popular Doris Day in 2 films - the weak comedy
Do Not Disturb
(65) and the more inventive
The Glass Bottom Boat
(66). In these, Rod played the part usually done by the likes of Cary Grant or Rock Hudson. But, it was the action hero roles that drove Rod's choices afterwards - these seemed forgettable at the time but have since gained an appreciation and are responsible for much of Rod's cult-like status with fans these days.
The first of these was intended to possibly start an action franchise in the James Bond mold -
The Liquidator
(66). It was again directed by Cardiff and even had the title song sung by Shirley Bassey, famous for her Bond songs. But, legal problems caused a release delay of a few months and it wasn't a hit. I found it to be strangely entertaining the more time passed by, a parody of the spy thriller, with Rod curiously effective in it. Rod then starred in
Hotel
(67), a variation of the all-star
VIPs
but with less star power; it's quite watchable (it was done up as a TV series in the eighties). Rod then finally produced his first film and starred as the title character,
Chuka
, a grizzled gunfighter in this western about hostile Indians. He wasn't his usual gregarious self in this, instead grim and morose. The film had poor distribution due to being abandoned by the movie studio but had decent reviews.
This led to Rod's best film and best role, as a mercenary in
Dark of the Sun
(1968), a.k.a.
The Mercenaries
, about a special mission in the Congo to retrieve diamonds. This was the role in which Rod could do no wrong - he was tough, brutal, professional, commanding and ultimately tragic in this exploration of violence in our modern world of continuing warfare and rebellion. The film was intended to follow in the footsteps of other '
men-on-a-mission
' films such as
The Bridge on the River Kwai
(57) and
Guns of Navarone
(61) but was made at a time when films were becoming more explicit and visceral. This was the 3rd Rod Taylor film directed by Jack Cardiff. It also reunited him with Yvette Mimieux and co-starred Jim Brown, the new rising action star. Unfortunately, reviews were almost universally negative back then and this suggests that it was ahead of its time - it's revered in many quarters nowadays, including by some filmmakers such as Quentin Tarantino, who liked to tell a story about how Rod and Jim Brown got into a fight at a party and that, despite Jim being a football player, it was a fight that Rod won (perhaps due to his boxing skills).
Rod followed up with another role as a pilot and soldier-of-fortune in
The Hell With Heroes
(68), about intrigue just after the 2nd World War in Africa, also starring Claudia Cardinale and a young Pete Deuel, who committed suicide only a few years later. Then Rod was in
The High Commissioner
, as an average Australian cop thrust into political intrigue in England, forcing him to act like a secret agent. It was fairly interesting. At this point, Rod's career took a strange turn - he took a small role in a film called
Zabriskie Point
(1970), the first (and only) American work from the legendary Italian director Michelangelo Antonioni. The main characters were a pair of student activists who end up in a desert to make love; Rod just had the role of a lawyer who represented the establishment. He did the drama
The Man Who Had Power Over Women
, as a London music agent. It now seems that Rod was getting away from his action roles and into dramatics because, due to his effective portrayals of 'men-of-action,' some people were actually afraid of him (some of his scenes in
Dark of the Sun
could be viewed as truly frightening by people). But this latest film disappeared, almost unseen, so he went on to action: as Travis McGee in
Darker Than Amber
, another possible series of films; this one was based on the 7th in a popular series of mystery novels by author John D. MacDonald about a Florida-based sleuth. It's remembered now for the vicious fight towards the end between Rod as Travis and the villain played by William Smith, some of which was for real.
The McGee film was also a miss so that made five films in a row that lost money. It was time for Rod to try TV again - this he did in 1971 as another soldier-of-fortune in
Bearcats!
The series took place in 1914, featuring 2 mercs-for-hire. By coincidence, it was up against
Alias Smith & Jones
, a comedy western starring Pete Deuel just before he killed himself. It lost in the ratings and was canceled after one season (but, Rod wasn't alone - several series with big stars were canceled at that time). Rod did a TV movie called
Family Flight
(72), about a family crash-landed in the desert - it was his first role playing a father. He managed to nab 2nd lead in the latest John Wayne western,
The Train Robbers
(73); Wayne may have used his pull because they were friends. Then it was back to Italy for
The Heroes
, described by producer Alfred Bini as a "cross between M*A*S*H* (1970) and an Italo Western." It was a lighthearted adventure tale about six people thrown together in North Africa during World War II who discover £2 million in an ambulance; Rod played an American soldier (sounds like a remake of
Kelly's Heroes
); it was never released in the U.S. Then there was
Trader Horn
, with Rod as the great white hunter leading a party through the jungle; it was barely seen, but I hear it's an old-fashioned adventure only marred by stock footage from the old King Solomon's Mines film.
Rod's standing as a heroic star was not looking good at this point, with his latest films all but disappearing from public view, so maybe that's why he finally played a vile villain in the flawed, violent western
The Deadly Trackers
, going up against a vengeful sheriff played by Richard Harris. The film had a bad history, begun by Sam Fuller, canceled by the studio, then restarted with a different cast (except for a returning Harris) and director (Barry Shear); Rod was brought in to replace Bo Hopkins and was surprisingly effective, considering that he had always played the hero. He starred in a couple of other European films - the first was
Partizani
(74) a.k.a.
Hell River
, a war pic from Yugoslavia co-starring Adam West as a Nazi. It was unusual in that Rod was working with communists, was playing a guy who recently graduated from college (at age 44) and it was marred by the death of his good friend & handler in an auto accident. The other was
Germacide
a.k.a.
Blondy
(75) - again, this was not seen in the U.S., which is good since it's regarded by many as his worst film. He again turned to TV in 1976, filming a couple of pilots -
A Matter of Wife... and Death
(a remake of the Burt Reynolds film
Shamus
) and the family western
The Oregon Trail
; neither was picked up for a series, but after an interval, Rod learned that such westerns were back in style (like
Wagon Train
) and
The Oregon Trail
was indeed a go in 1977; this aired only 6 episodes (a DVD set of all 14 episodes was released in 2010).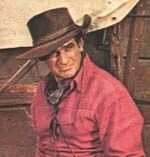 Rod's nadir as a leading man in theatrical films was reached with the adventure
Jamaican Pie
(or
Jamaican Gold
), in which he and Stuart Whitman starred as a pair of treasure hunters in the Caribbean. Even though Rod also contributed some scripting, he was paid for neither this or his acting, electing to take a percentage of the profits. But, this was never released. A couple of years later, Rod found out that it was released on video as
The Treasure Seekers
. As if to make up for this indignity, Rod took a small role in his 1st Australian film in 20 years,
The Picture Show Man
(77), about the adventures of a traveling film exhibitor in rural Australia during the 1920s. Ironically, Rod played an American in this and though his was not the main role, he was billed first because he still had some star status, especially in his homeland. But, it caused tension with the actual lead, John Mellion (Rod's associate from his radio days) and Australian critics were harsh about Rod, as if to punish him for his supposed impudence. Rod did another international picture,
A Time to Die
, and knew it was rotten while making it, despite classy actors like Rex Harrison (in his final film) in the cast; it wasn't released until years later, with added footage done without Rod's knowledge.
It was obvious that Rod's film career had petered out after 25 years and, as the eighties began, character roles and TV was the way to go. He starred in a TV thriller,
Cry of the Innocent
, co-starring Cyril Cusack. The two quickly reunited for an episode of
Tales of the Unexpected
,
The Hitch-Hiker
. Then there was the Telly Savalas pilot
Hellinger's Law
as a mafia man and the splashy
Jacqueline Bouvier Kennedy
telefilm, as her troublemaker father, as well as
Charles & Diana
, with Rod in a small role serving British royalty. He did play an Australian finally in an Australian film,
On The Run
, cast against type as a hitman out to kill his own nephew, but it was never meant to be released and went straight to TV. There were yet 2 more short-lived TV series:
Masquerade
(83-84) showed promise with Rod as the head of a spy agency, backed by young stars Kirstie Alley & Greg Evigan, but it played opposite big hits on TV and was quickly canceled.
Outlaws
(86-87) was about a lawman (Rod) and a gang from 1899 yanked into the present via freakish time travel, whereupon they form a detective agency (note that the premise uses the same year - 1899 - that Rod's character George started from in
The Time Machine
, though this series took place in America, while the earlier film took place in England). Again, it lasted only one season. Rod also starred in a couple of final international pictures in 1985:
Marbella
, a comedy crime caper, and
Mask of Murder
, about a serial killer. He capped off the 80s with a regular role on
Falcon Crest
, a popular nighttime soap opera which had been running on TV for several years already. He was brought on to provide a male interest for lead Jane Wyman.
Now 60 and not getting younger, Rod slowed down and was definitely the elder character actor. His TV work included
Palomino
(91), as a ranch foreman (and reunited with Eva Marie Saint of
36 Hours
) and the 2-part sequel to
Chiefs
,
Grass Roots
(92), as the sinister head of a white supremacy group. Perhaps his most interesting work in the 90s was in a documentary on
The Time Machine
, one of his now-classic films, called
The Journey Back
(93), which included a brief sequence of his character George (played by Rod again) reuniting with his friend played by Alan Young after many years, like a short sequel to the film. His work became more sporadic - a small but vital role in
Open Season
(as a TV bigwig), which was delayed for 3 years and
Point of Betrayal
(95), which was never released in the U.S., as well as the offbeat, irreverent
Welcome to Woop Woop
(98), which had him back as an Australian and uninhibited. He guest-starred on several episodes of
Walker,Texas Ranger
, the show with action star Chuck Norris. He also appeared as an old general in a sci-fi pilot, the cheesy-titled
Warlord:Battle For the Galaxy
(originally to be called
The Osiris Chronicles
). This was a proposed series for an anti-Star Trek storyline in which a galaxy-wide federation had fallen apart into anarchy. But, even though it was detailed and intriguing, no series resulted.
Rod was now closing in on 70 as the nineties ended, but though
Welcome to Woop Woop
was a critical/commercial failure, it revitalized him personally. He acquired an Australian agent and it looked like he would be busy, but several planned projects came to nothing over the next several years, so he pretty much retired as the 21st century began. In 2007, he did appear in a SyFy Channel movie,
KAW
, which was a questionable homage to
The Birds
. He was then contacted by Quentin Tarantino, who wanted him for one scene as Churchill in his World War II fantasy
Inglourious Basterds
(2009); Rod happily obliged and, so far, this can be looked upon as his swan song in cinema - he is now the same age as Heston when Heston passed away, but still ticking along. He is, after all, a tough guy.