I wasn't going to write about him here at first, but the more I read about him in tributes and obits, the more I realized that he had a significant impact on cinema, especially in the sixties and seventies. This became very evident in one of the youtube videos posted at the
Aint-it-Cool
site tribute - there were scenes there which I had never seen before. It shows that Kiel was in a lot of stuff - TV & Films - sure, some of these were small roles, but he was always memorable (for obvious reasons; he was about 7' 2").
_________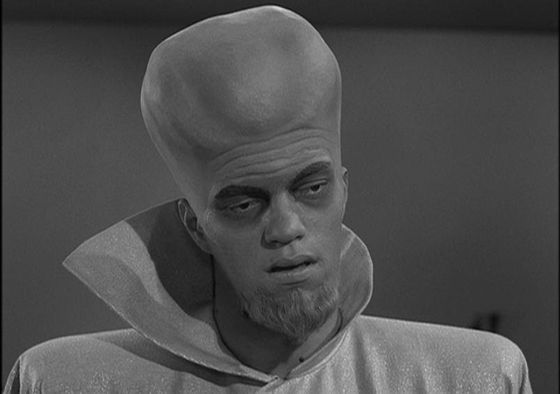 Yes, Kiel was one of the tallest actors around and he was at it for a long time - since about 1960. Many of his early film roles were in low budget sci-fi, such as
The Phantom Planet
(61), where-in he was dressed up as a goofy-looking alien. His first big role was as a tall caveman in
Eegah
(62). On TV, he played a big-headed alien in the famous
Twilight Zone
episode
To Serve Man
. He showed up very briefly in the Jerry Lewis sci-fi comedy
The Nutty Professor
(63), as a very tall gymnast. The common factor to these and other roles was that Kiel was mute in these. This changed for
The Human Duplicators
(65), in which his alien character was fairly articulate.
Richard Kiel had a column in the first issue of
Cinema Retro
(2004) magazine titled
Richard Kiel's Hollywood Tall Tales
, in which he reminisced on his experience of playing the role of Kolos in
The Human Duplicators
(Kiel mentions that his tales are 100% accurate; the "Tall" is in reference to his height). The film was a product of the Woolner Brothers, who owned some theaters and were known for putting together double features.
_____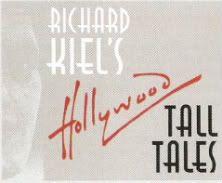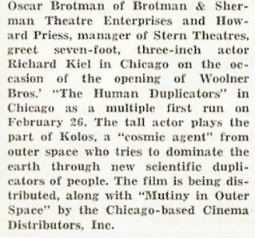 Kiel found out back then (early to mid-sixties) that making friends with gate guards at small studios was one way to get valuable info. He found out that filming for a science fiction movie was about to begin, directed by Hugo Grimaldi. Kiel located Grimaldi in a commissary and sat down in his line of vision; this tactic worked - Grimaldi walked over to Kiel and began asking questions. Kiel got a call from Grimaldi the next day about a role in the movie - this was actually a smaller role, as Kolos' butler. At this point in time, Kiel had taken a public relations job with a meat company, a job which, at that time, was pretty good money-wise and perks-wise. His disappointment with the role offer was evident and, 2 days later, director Arthur Pierce (writer and co-director) had Kiel read for the part of Kolos; that's how Kiel got the role. The shooting schedule was for 2 weeks. Kiel opines that the pairing of actors George Nader and Barbara Nichols was an error; Nader still looked fit while Nichols had let herself go.
______________
Kiel was sent to an alteration shop to be fitted for a space suit. His hair was also re-styled. He hints that the spaceship was an ashtray. He claims that he was instructed to act like an android, which is why his line delivery is stiff. He also wrote that he did his bit in promoting the film, like appearing on the local TV talk show in Chicago, where the film opened in 25 theaters. Some of the theaters were in rough neighborhoods and a bunch of kids appeared all wearing band-aids, making Kiel nervous; he found out later that the band-aids were part of a 'Survival Kit' gimmick, including Tootsie Rolls and balloons. Kiel also went to Gary, Indiana where he got snowed in and, dressed in his spacesuit, ran into a local tough guy at a diner; they shook hands, Kiel applying more pressure than usual; the guy told his buddies that Kiel had 12-inch "foingers." Kiel's tour was so successful, he then went to Toronto, Canada; but, despite his efforts in increasing the film's popularity, he found out that there was no gratitude from the Woolner Brothers - that's Hollywood.  
I kind of wonder if Kiel hadn't mixed up some of his experience with Hugo Grimaldi; I thought he already knew him at the time of making
The Phantom Planet
(1961); I wonder if his tactic in the commissary wasn't for his role in that earlier film.
Anyway, Kiel is also well-known from this time as Voltaire, the very tall assistant to villain Dr. Loveless in several episodes of
The Wild Wild West
(1965-66). He also appeared in episodes of
The Man From U.N.C.L.E
.,
I Dream of Jeannie
,
The Monkees
and
I Spy
. As expected, Kiel was a natural for threatening roles or those that required an extra-large threat. He played monsters in a couple of episodes of
Kolchak The Night Stalker
(74). He finally nabbed a regular role in the TV series
Barbary Coast
(75-76), as Moose, a combo barker/bouncer at a saloon, in a more comical vein, but the show was cut short at 13 episodes. There was no indication that he would ever move beyond small supporting roles: he was very good as a tall convict in the Burt Reynolds pic,
The Longest Yard
(74), getting punched by other tough guy Robert Tessier and showing a surprising sensitive side, but he was far down the cast list. The same could be said for his huge killer role in
Silver Streak
(76), a comedy thriller starring Gene Wilder. Kiel was memorable chasing Wilder in and on top a moving train, but it was a small role.
_____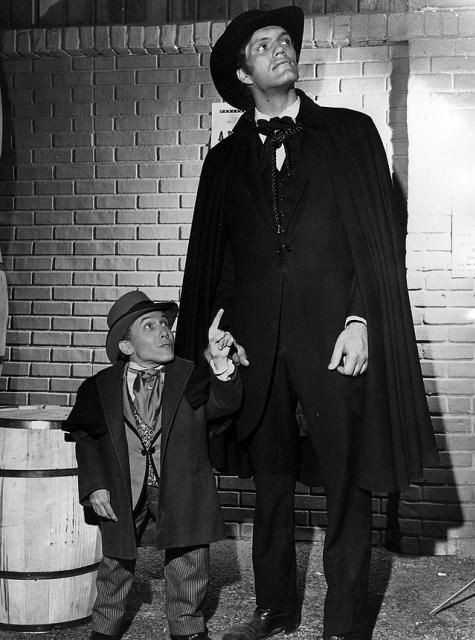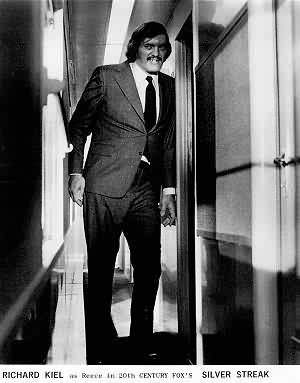 But, it was this last role that seemed to foretell Kiel's future career in film. He was selected as the latest super henchman for a James Bond film,
The Spy Who Loved Me
(1977), like an expansion of his killer in
Silver Streak
, and this made Kiel world famous. He played 'Jaws,' a super-assassin who also turned out to be nearly indestructible. Kiel was a frightening figure throughout the film - there was his height and bulk, and his metallic teeth, and, by his 2nd killing, viewers were aware that anyone who got into his deadly grasp would be crushed, perhaps even Bond (Roger Moore). Kiel's character didn't speak here and that's the key - he didn't need to; simply his presence was enough and, indeed, vocals would have spoiled it. And, to top it off, Jaws survived to appear in the next Bonder,
Moonraker
(79) - this was unprecedented (as a rule, henchmen in Bond films were killed off). On the downside, Jaws was softened in his 2nd appearance, to the point of looking clownish. But, his initial appearance remains a showstopper and a rule-breaker - that one super henchman that even Bond could not kill. His Jaws role was also a natural follow-up to his Voltaire, who would fight secret agent James West in a similar manner.
__________
As a result of the James Bond henchman role, Kiel was something of a star for a few years. He had a big role in the war adventure
Force 10 From Navarone
(78), as a large, cruel Serbian soldier. He went back to sci-fi & alien roles in
The Humanoid
(79). And, more impressive, he starred in
So Fine
(1981), a comedy with Ryan O'Neal; there was a scene in this one towards the end during an opera and Kiel showed exemplary comic timing. The irony here is that comedy roles suited Kiel, who was known as a gentle giant in real life. He went the comedy route in
Hysterical
(83) and
Cannonball Run II
(84). He then appeared in the Clint Eastwood western,
Pale Rider
(85). By this point, Kiel was back to small roles, as if the novelty had worn off. Kiel did make some good money in commercials, in places like Japan.
______________________________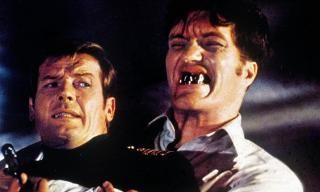 Kiel did manage to star in, write and produce the family film
The Giant of Thunder Mountain
(91), but his career seriously declined by the nineties. His situation was not helped by being in a car accident in 1992, which affected his balance; he was seen with a cane from then on and later in a wheelchair. Many people do remember him in the Adam Sandler comedy
Happy Gilmore
(96). He also parodied his famous Jaws role at least once and was a frequent guest at various sci-fi conventions. He is often mixed up with actor Ted Cassidy, who was 6' 9", and Kiel was the original choice to play
The Incredible Hulk
in the late seventies, acting in the pilot TV film until replaced by the more bulky Lou Ferrigno. His last work was providing his voice for the animated film
Tangled
(2010).
R.I.P.