Brit and Lord Richard Attenborough got his start as a film actor way back in the early forties and his breakthrough role was in the British film
Brighton Rock
(1947), as a young psychotic gang leader named "Pinkie." Attenborough was an unlikely film star - he always looked pudgy and unimposing, but he was fairly big in films by the sixties, notably as the leader of the prisoners in a WW2 prison camp in
The Great Escape
(63). Steve McQueen & James Garner were the 2 big stars but Attenborough was credited firmly 3rd as "Big X," the mastermind behind the big escape.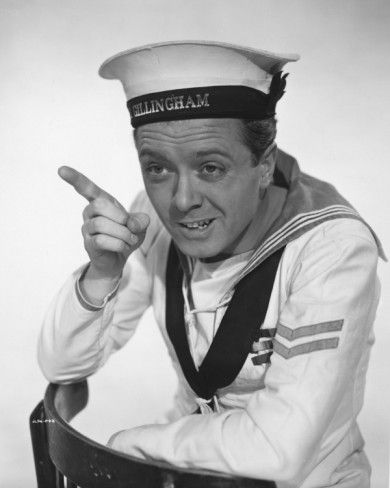 He seemed to do well as soldiers in film and as 2nd lead to big stars - he was a loud stiff upper lip in
Guns at Batasi
(64) and rejoined McQueen (as sailors) for
The Sand Pebbles
(66). These were military roles but very different in style - he was quiet and shy in the latter role. He also supported James Stewart in the survival adventure
Flight of the Phoenix
(65). By the start of the seventies, his roles were smaller in support - appearing with John Wayne in
Brannigan
(75) and as yet another damaged soldier in
Conduct Unbecoming
. There was a gap in the eighties when he turned to directing and modern audiences are probably more familiar with his comeback role as a rich entrepreneur in the Jurassic Park films (only the 1st two, in 1993 & 1997), exulting over bringing dinosaurs back on an island. He was also in a remake of
Miracle on 34th Street
(94), in the Santa Claus role.
Attenborough is also well known as a director, specializing in biographies and epics - an early effort was
Young Winston
(72), on Winston Churchill. When epics were already out of style, Attenborough went against the grain with
A Bridge too Far
(77), an all-star war film on World War II, and
Gandhi
(82), for which he won 2 Academy Awards (director & producer). There was also the small suspense film
Magic
(78). Later he directed
A Chorus Line
(85),
Cry Freedom
(87) and the biopic
Chaplin
(92), with Robert Downey Jr. in the title role.
In 1967, he was made a Commander of the Order of the British Empire (CBE). He was made a Knight Bachelor in 1976 and in 1993 he was made a life peer as Baron Attenborough, of Richmond upon Thames in the London Borough of Richmond upon Thames.
R.I.P.