tizzyd wrote:
By the way, what's this one about, I mean the story?
This is a very late response, but I happened across a good summary at this site -
http://www.fesfilms.com/public-domain/t ... tudio.html
It reads there: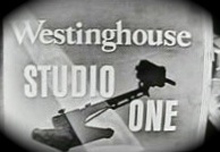 Quote:
A Bolt of Lightning
(11/12/1951) 60 min. Directed by Paul Nickell. Cast: Charlton Heston, Rita Vale, Romney Brent. Dramatization of the life of James Otis, one of America's reluctant Bostonian revolutionaries caught up in the orbit of Sam Adams. A young Charlton Heston plays Otis with characteristic patriotic zeal. Otis was an Advocate for the British governor who turned on the British administration because of their refusal to recognize the sanctity of private property.
Take note, also, that the youtube in the first post has long been eradicated; that's the problem with this rare footage sometimes on youtube - you may not have an unlimited amount of time to watch it...
https://archive.org/details/StudioOne-ABoltOfLightning