Quote:
Lauren Bacall, the sultry presence who first hit movie screens in 1944 and then went on to play a series of sophisticated, tough-as-nails roles for the next six decades – even in real life – has died, the Humphrey Bogart Estate announced on its Facebook page. She was 89 and a longtime resident of Manhattan's Upper West Side.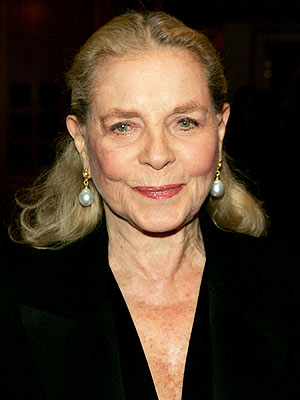 Quote:
Launched by a Harper's Bazaar cover when she was a 19-year-old model, the former Betty Joan Perske, born to Jewish immigrants in New York City, was signed by Warner Bros. in 1943. Whatever she may have lacked in acting experience, the willowy teen made up for with a certain grace that was made camera-ready by the great director Howard Hawks. Lauren Bacall, as she had been renamed, modeled her character in 1944's adaptation of a Hemingway novel, To Have and Have Not, after Hawks's stylish wife, Nancy "Slim" Keith, and delivered the immortal line to the grizzled Humphrey Bogart, who was 25 years her senior: "You know how to whistle, don't you, Steve? You just put your lips together and blow." A star was born. So was a legendary off-screen romance.
Bacall starred with Bogart in several key films - besides her debut,
To Have and Have Not
, also
The Big Sleep
(46),
Dark Passage
(47) and
Key Largo
(48). These were rather grim thrillers, but she was also adept at comedy -
How to Marry a Millionaire
(53), with Marilyn Monroe. What was unusual about Bacall, besides her deep sultry voice and her looks, is that she continued to work to the very end. Many actresses, even the top flight ones, retire early due the age issue in Hollywood - but not Bacall. I remember her in the thriller
The Fan
(1981) - this was already late in her career and was almost like a slasher film. But, you have to give her props for continuing her efforts as a big film star so late in the game (this film also starred James Garner - I forgot this - who also just passed away recently).
She received her only Oscar nomination for her supporting role as Barbra Streisand's mother in
The Mirror Has Two Faces
(1996). It's a shame that she never appeared with Heston in a film. She worked well with John Wayne in a couple of films (
Blood Alley
in 1955 and
The Shootist
in '76), so I see no reason that she and Heston wouldn't have made an interesting pair on the big screen.
R.I.P.