It's generally accepted that Brando's career went into serious decline in the sixties. However, as has been written elsewhere, after that special group of films in the 1st half of the fifties, anything he did would be considered anti-climactic. Consider - each of his early films built on the impact of the previous one and also got him Oscar nominations: his brutish Stanley in
A Streetcar Named Desire
(51), the Mexican rebel in
Viva Zapata!
(52), Antony in
Julius Caesar
(53), the rebel biker in
The Wild One
(53) and culminating with his Oscar-winning Terry in
On the Waterfront
(54). That streak of rebelliousness sent a signal to Hollywood and the world-at-large: cinema would never be the same. Nearly every film actor who began after 1950 was influenced by Brando, notably early rebels James Dean, Paul Newman and Steve McQueen. Brando's technique is popularly known as "The Method" (a term he himself was not fond of) but, in his younger days, he also displayed a primal ferocity that most other actors were simply incapable of.
________________
The game-changing Brando did a lot of theater in the late forties, notably the very successful
A Streetcar Named Desire
on the Broadway stage (where he was electrifying), and he declined offers from Hollywood during this period. He finally decided on his film debut as the small b&w drama
The Men
(1950), playing a wheelchair-bound ex-soldier. After the quintet of startling films in the early fifties, things leveled off in the 2nd half of the fifties. What's significant to note is that, more than just a creative explosion, his earliest films were financially successful - especially the last,
On the Waterfront
, which was surprising for a downbeat drama. So, Brando was a real box office force, not just a creative one. He seemed unsure after the accolades and the winning streak, taking grandiose or contractual roles: Napoleon in
Désirée
(54), the musical
Guys and Dolls
(55), as a Japanese man in
The Teahouse of August Moon
(56) and a sad blonde German officer in
The Young Lions
(1958 - with Montgomery Clift, though they had no scenes together!).
_____________________________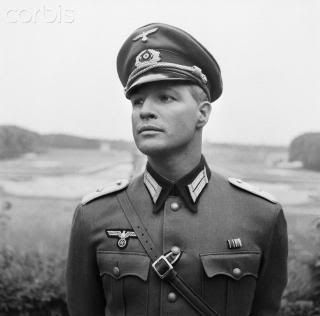 ABOVE:
how Brando was first seen on film, as a soldier in the first shot of The Men (1950); later, in The Young Lions (58)
He did get an Oscar nomination for
Sayonara
(57) - his last in quite a while - and good box office prevailed. But, Brando's eccentricities and the overlap with his personal life (women) now began to adversely affect his career. His latest project, begun in the late fifties, was an epic western,
One-Eyed Jacks
, to be directed by Stanley Kubrick. Then, Kubrick departed over long script rewrite delays and it seemed that Brando always intended to direct it himself. Brando cast his buddy Karl Malden as the main antagonist and the pic eventually goes way over budget. There are many stories of Brando's excesses (women) and eating binges and odd delays. Post-production was even worse - Brando gets lost in the editing process, first assembling an 8-hour film and finally one over 4 hours; the process bores him and the studio takes it over from him. Of course, a much shorter version is finally released in 1961; it's not a bad film - but it couldn't recoup its huge costs. Brando never directed again.
__________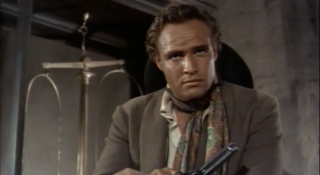 __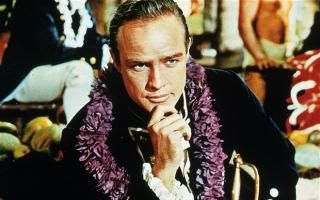 Before
One-Eyed Jacks
was released, Brando starred in
The Fugitive Kind
(60), based on the Tennessee Williams play
Orpheus Descending
, with older Anna Magnani, and this is where all the high expectations of his genius also take their toll - this one is a failure critically & commercially. (Some salary trivia: Brando reportedly got $1 million, beating Elizabeth Taylor to this milestone, but it wasn't publicized, so Taylor became the famous one to first get that amount for a film). More excess followed with the
Mutiny on the Bounty
1962 remake - Brando is overpriced, the film way over-budget - and he and Taylor become prime examples of the pampered elitist stars (he for the Bounty film, she for
Cleopatra
). And yet, it's a solid film, this version of the Bounty, and Brando delivers as a foppish officer who becomes outraged in the 2nd half. I'm not too interested in Trevor Howard as Bligh or Richard Harris; it's Brando that I watch in this film.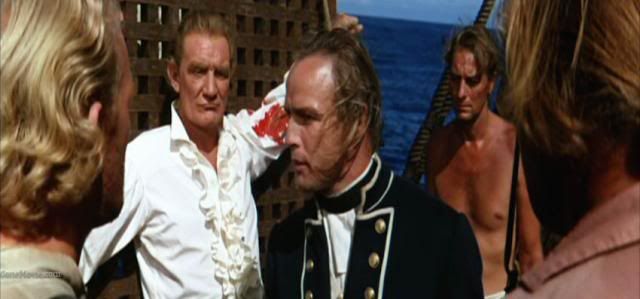 But, the damage was done - Brando did most of his remaining sixties films for much smaller fees and as contractual obligations. There was one amusing comedy,
Bedtime Story
(64), with David Niven, and an awkward one with Sophia Loren for Chaplin,
A Countess From Hong Kong
(67). The other films were dull and routine: as an ambassador in a fictional country in
The Ugly American
(63); as an agent on a ship in a dreary war film
Morituri
(65) with Yul Brynner; as a sheriff in a corrupt town in
The Chase
(66), which boasted a stellar supporting cast but dragged; in the lackluster western
The Appaloosa
, about his quest for his horse; and as an effete military man married to Elizabeth Taylor in the eclectic
Reflections in a Golden Eye
(67), directed by John Huston, some might say pretentiously. The problem for Brando is that all of these were box office flops - the good streak was long gone. There was also the goofy
Candy
(68), which did make money, but Brando was just one of several big stars in weird cameos - he played an Indian guru in long wig.
Brando wrapped up the sixties with a couple of slightly more interesting films. He had been slightly overweight for much of the decade (remember, the eating binges) but got into good shape by the time of
Night of the Following Day
(68), an offbeat kidnapping thriller that functioned as a disturbing dream on some levels. Then he was a 19th-century British government agent fomenting a rebellion in the Caribbean in
Burn!
(69), a reflection of his real life political causes and which started a trend in the next few films of his characters perishing by the climax. But, neither of these had much of an audience. The same could be said for
The Nightcomers
(1971), a British prequel to
The Turn of the Screw
; he played Quint, a roguish Irish groundskeeper who plays games with two children and engages in sadomasochistic liaisons with the governess. This was Brando being edgy - and it was daring for its time - but no one went to see it.
______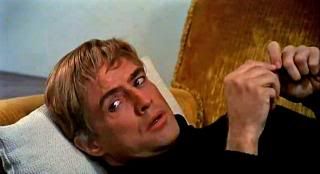 All these failures explain why Brando was considered unemployable by this point, and why director Francis Coppola had to convince the studio to hire Brando for
The Godfather
(1972). He looked different and older in the role of Don Corleone, head of an organized crime family, backed by new young stars Pacino, Caan and Duvall. The film was an enormous hit, the biggest grosser of the year, and - to put it mildly - it revitalized Brando's career. He even won his 2nd Oscar, the one he declined (perhaps he was bitter - having no confidence in himself or the film, he gave up his profit points for a fee and sacrificed about $10 million). Almost immediately, he starred in
Last Tango in Paris
, indulging in more *** games with a much younger actress; the director, Bernardo Bertolucci, also allowed lengthy scenes of Brando in stream-of-consciousness mode, speaking of personal incidents in his life. As is well known now, Brando began acting off of cue cards at this time, essentially reading all his lines, as if he had memory problems. This adversely affected his acting style. Still, it was considered groundbreaking in its time, great box office, and Brando won more accolades.
______
___
Then, being Brando, he again did the unexpected: now back on top of the heap, he didn't work in films for the next few years. He finally returned in the revisionist western
The Missouri Breaks
(1976), as an eccentric bounty hunter/killer up against Jack Nicholson. Brando played this with an Irish brogue, as a lethal trickster who uses disguises - hamming it up some might say - and his role was smaller than Nicholson's, but the teaming of these two should have guaranteed big box office; it didn't. Nevertheless, Brando was still a big name and he used this to his monetary advantage, collecting huge paychecks for small roles in huge films - as the superhero's father in
Superman
(78) and as a deranged colonel in Coppola's
Apocalypse Now
(79). It is now evident that he disliked the chore of acting, so he took brief work for large pay. During the seventies (after Last Tango), Brando had steadily gained back all the weight he had lost in the late sixties and more, becoming fairly corpulent by the time of
The Formula
(1980), in which he popped up in a few scenes as an oil executive engaged in some verbal sparring with star George C. Scott. It was rather forgettable.
______________
Brando did appear in one TV episode of the
Roots
sequel,
The Next Generations
(79), as Rockwell, leader of the American Nazi party in the sixties, in which he looked slimmed down and also won himself an Emmy. Then he disappeared for most of the eighties, finally playing a lawyer during apartheid in
A Dry White Season
(89). He was quite heavyset now, but it was a fine performance, as was his comedic turn in
The Freshman
(1990), parodying his own Godfather role, but from then on Brando again went for the money and garnered several Razzie awards: a 10-minute role in the laughable epic
Christopher Columbus:The Discovery
(92) and, worse, as the mad scientist in the baffling
The Island of Dr. Moreau
remake of '96, which diverted all attention to his strange make-up and distracted attitude. However, he was elegant as a psychiatrist helping Johnny Depp in
Don Juan DeMarco
(95); he also, as a favor, acted in a scene in Depp's personal project,
The Brave
(97), a supposed deep statement about Indians & poverty & sacrifice, but it was plodding and it all but disappeared, never released in the USA. Brando then did a strange comedy,
Free Money
(98) and ended his film career with some distinction in the heist drama
The Score
(2001), appearing with Robert De Niro. However, he was so heavy at this point - perhaps 350 lbs. - that it looked difficult for him to move.
__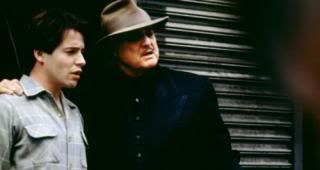 <
as Moreau (did we need to see this?)
Brando's legacy - even with all the setbacks and miscues - remains as that incredible infusion of talent and trendsetting in the early fifties, during which time he single-handedly changed the face of the film world. In some ways, film history can be divided into: before Brando - before 1950 ...and after Brando. At his best, he could be mesmerizing on screen, and, to this day, no other actor can match him when he was in his prime - not Pacino, not De Niro, not Sean Penn, nor any of the other 'new Brandos' that would shoot to fame in Brando's wake (Warren Beatty, for example, was very bland compared to Brando). James Dean came close, but he looked slighter, and we were never able to see where Dean's career might have taken him. Brando's legend continued in an odd way via archival footage in the films
Superman Returns
(2006) and the Richard Donner version of
Superman II
(also 2006), which contained footage of Brando from the late seventies.
________