Taylor's laughter was a reaction to the absurdity of the situation: the patriotic gesture for something that no longer exists. As established in later dialog, Taylor has already accepted the new reality - a far future in which the USA and all its citizens are long dead; Landon, on the other hand, is in a state of denial - until he sees some kind of proof, he won't accept this. Unfortunately for Landon, that proof eventually results in him getting lobotomized (remember,
careful what you look for
...as Zaius later warns).
One small possible plot hole which I was not even aware of until today involves Taylor's dogtags (military i.d. necklace). He didn't have any in this film - everything was stripped away from him by the time he was captured by the apes. But, in the sequel (
Beneath.
..), he places his dogtags around Nova's neck so that Brent can see them later and realize that Taylor might be alive somewhere. So, where did these dogtags come from? A possible answer to this plot hole can be found at this site:
http://www.potamediaarchive.com/CJ/CJ35.gif
- there, we are offered a diary entry by Cornelius...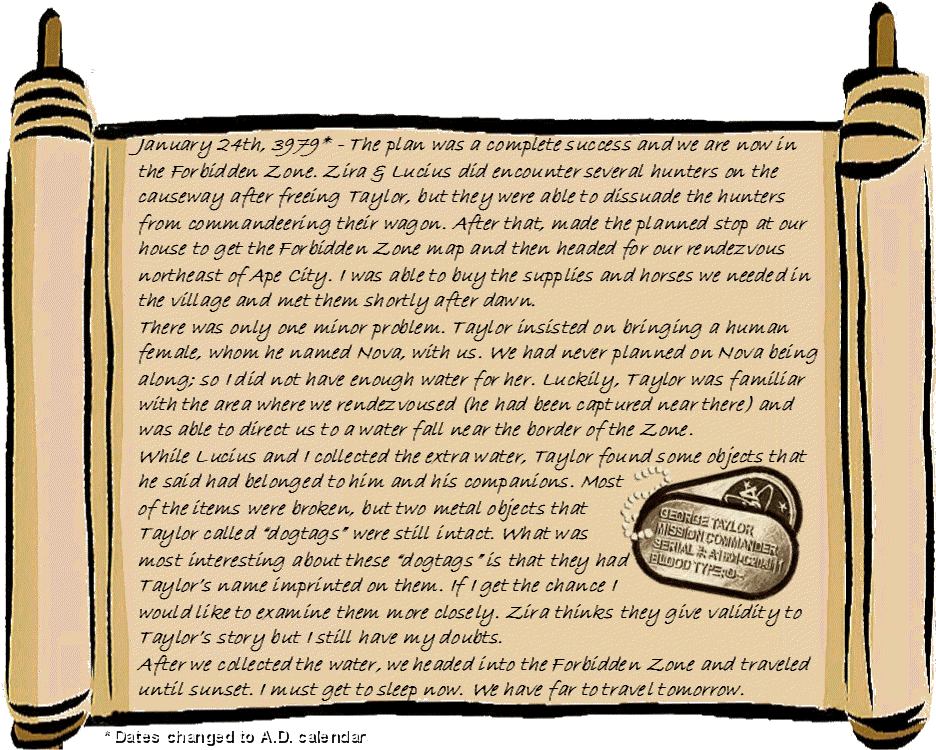 ______________
I noted the date of the diary - the day before my birthday! Howabout that?