There will be a Movie Memorabilia Auction curated by the TCM Channel on November 25th, titled, "
WHAT DREAMS ARE MADE OF
." Among the items will be several from
Ben-Hur
. The most unusual one, I find, is a personnel record for Heston, dated 1958:
http://www.bonhams.com/auctions/21427/lot/191/
Lot 191:
A Charlton Heston signed MGM personnel record
(this has his signature, so would be valuable to such collectors)
US$ 300 - 500
//
£190 - 310
You can go to the actual webpage (see link above) to get a much closer look at the document (utilizing zoom-in features)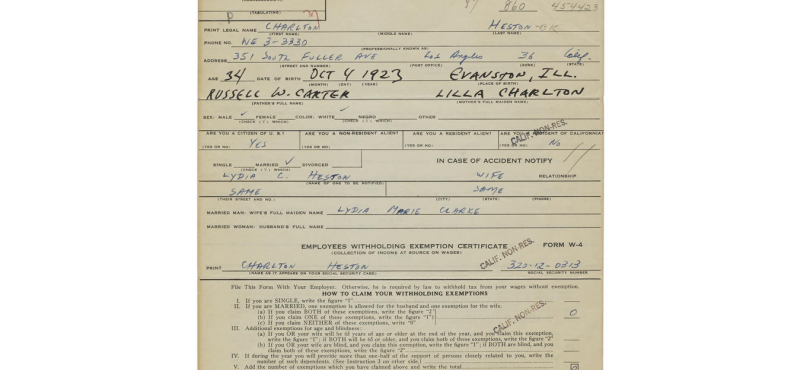 Document signed ("Charlton Heston"), 2 pages recto and verso, Culver City, California, February 8, 1958.
The form lists the actor's name, address, and spouse's name, with Heston filling out his age, birthdate, birthplace and parents' names. The actor's birth name was John Charles Carter; he created his stage name from his mother's maiden name, Charlton, and his stepfather's last name, Heston. This document dates from the peak of Heston's career, two years after the release of The Ten Commandments, shortly before the premiere of Touch of Evil and three months before principal photography would begin on Ben-Hur.
8 1/2 x 11 in.