"He made the air move" - this is reportedly written on Oliver Reed's tombstone. It's a perception shared by many of Oliver's friends and relatives. In real life, Oliver Reed was apparently a 'larger-than-life' personality and in some ways more colorful than even many of his screen characters. Much of this reputation was gained through the indulgence of alcohol; there was a recent book published, called "
Hellraisers: The Life and inebriated times of Richard Burton, Richard Harris, Peter O'Toole and Oliver Reed.
" Obviously, the writer felt that these 4 legendary actors were the top representatives of a certain era and a certain breed of men - the boozers, the madmen, the lunatics and, succinctly, the famous over-the-top personalities. At least, this was the case for British cinema; they had their American counterparts (Lee Marvin, Mitchum), but somehow the Brits were more flamboyant, more '
in-your-face
' about it.
And, I think Oliver Reed tops them all in this regard; there are so many incredible stories of his excess - of the special rituals of pub crawling and breaking all the records for one night drinking, that it's really no surprise that it all caught up to him when he was only 61 years old (Burton also died at a young age, when he was only 58). The thing is, it was Oliver's standout personality and presence which garnered him his earliest roles - casting agents and directors took notice of his ability on screen before he became a big star, way back in 1960. Oliver's tendency in his own life towards lunacy and wild unpredictability spilled over into his acting; the audience was never sure what crazed thing he would do next in his roles. Even though his uncle was the famous director Carol Reed, there was no nepotism involved - Oliver wanted to make it on his own. He disregarded any possible work on the stage; for him it was strictly about becoming a film star.
__________
His uncle did give him some advice, such as formal training at RADA and making contacts at the Ritz grill. Oliver wasn't even interested in training; he opined that such teachers were just those that couldn't make it as actors, so why bother with that? The real reason, though, was probably that Oliver wanted
paid
work quickly. His only training was to attend the cinema quite a bit - that and the pubs, where all of human life was on display. His first step, in 1958, was getting into the film extras union and a bit part in the musical
Hello London
(a.k.a.
London Calling
) and an uncredited bit in
The Square Peg
, an army comedy. Other bit parts barely paid anything and Oliver was mostly destitute (even though his parents were well off). In the next year, his brooding persona was noticed by agent Pat Larthe, who picked him up. His first speaking role was in
The League of Gentlemen
(60), a one-scene role he won after another young actor couldn't manage the part of a gay chorus boy for director Basil Deardon.
_______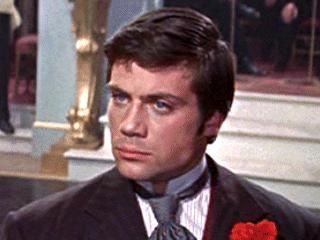 _____
At this point, Oliver was ready to find a '
normal
' job - he was recently married and there just wasn't enough money coming in. Just then, Hammer Films called him back after a recent audition and, as the saying goes, the rest is history. Oliver had received the usual warnings from others to stay away from horror films (same as with sci-fi films) because an actor can get stuck in a rut there, but he wanted to act and that was that. Oliver began his regular work for Hammer in another one-scene tough guy role - as a pimp, no less - in
The Two Faces of Dr. Jekyll
. After this, he got a larger role as an obnoxious & vicious young nobleman in the latest Robin Hood adventure,
Sword of Sherwood Forest
, which starred Peter Cushing as the Sheriff. Oliver effected this whispery style of speaking that suggested all kinds of menace. In
The Bulldog Breed
, he did a bit part as a Teddy Boy gang member who fights with a sailor played by Michael Caine, who was also a few years shy of stardom. Oliver also did a bit part in the comedy
The Rebel
(a.k.a.
Call Me Genius
), debating art in a cafe. He kept blowing his lines but when he got 'em right - on the 7th take - it impressed all involved.
_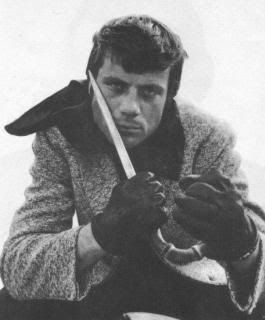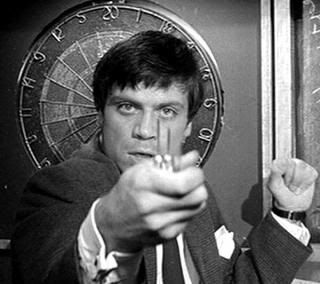 His breakthrough role - the lead part - was in Hammer's update of the wolfman legend,
The Curse of the Werewolf
(61). Oliver projected a wolfish intensity even when not in the monster make-up and then the make-up itself was outstanding, an upgrade over the old Lon Chaney Jr. version. Now, this did not make Oliver a star - it was a horror film and a box office failure (which explains why there was no series of werewolf films from Hammer, like their Dracula and Frankenstein films), but it did assure Oliver getting decent parts in the next few years - at least in Hammer films. These were in
The Damned
, an unusually bleak sci-fi drama with him as a Teddy Boy again (release of the film was delayed for almost 2 years), as a pirate in
The Pirates of Blood River
(62), then heroic in
Captain Clegg
(a.k.a.
Night Creatures
, with Cushing again), slightly psychotic in
Paranoiac
(63) and back to costumed drama for
The Crimson Blade
. None of these were starring roles, all 2nd or 3rd leads, but they showcased his ability to steal scenes or dominate them (Oliver's American counterpart, in some ways, was Jack Nicholson, who labored in such secondary roles in small films all through the sixties, until suddenly becoming a big star at the end of the decade).
______________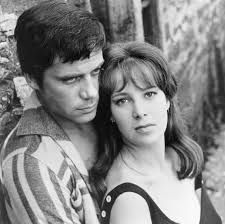 ___
While Oliver was making a living in Hammer horror, the British New Wave of realistic kitchen-sink drama got its start with Albert Finney in
Saturday Night and Sunday Morning
(61). Oliver knew he wanted to be a part of this - working-class roles were a way of defying his own upper class beginnings (his parents were well off). His first try was as a member of a beatnik group in
The Party's Over
, a take on youth culture, but it ran into censorship problems, its release delayed (like a previous Oliver Reed film) for a couple of years, and then only limited. He had better luck with Michael Winner's
The System
(64); Winner spotted Oliver's star quality and cast him as a girl-chasing lothario in a tourist town (a.k.a.
The Girl-Getters
). This shifted Oliver to the next level of his career, but apropos his wild life, this career nearly ended when a hostile pub denizen thrust broken glass into Oliver's face. This bloody injury required many stitches (mostly in the chin area) and Oliver was pretty sure that his career was over.
_____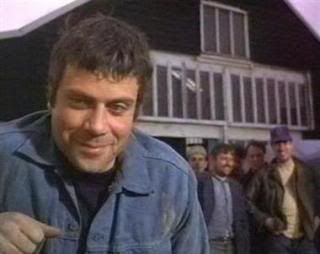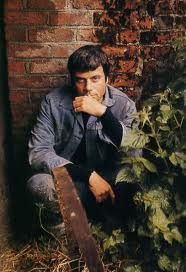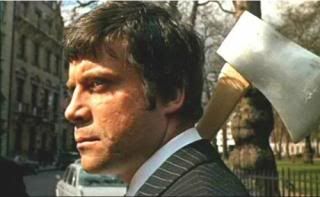 But, Ken Russell cast Oliver in a BBC TV film,
The Debussy Film
(65), as a famed French composer, and this marked another shift for the actor, as critics now took serious notice of him. He took one last role in a Hammer feature,
The Brigand Of Kandahar
(65), as a kind of farewell to his old career. He was a star now, but not a very big one; he thought his role in
The Trap
(66), as a fur trapper in the snowy wilderness, would be his biggest one, but it wasn't seen much. He played a thug again in
The Shuttered Room
, a horror suspense film which seemed to shift him back to his early sixties roles (Oliver also feared that his new scar would typecast him as villains). Michael Winner gave Oliver more good roles in
The Jokers
and
I'll Never Forget What's'isname
(both 1967), which showed the actor's comedic talent. At that point, he was also becoming well known across the pond, in the U.S. He finally worked for Carol Reed in the famous musical
Oliver!
(68), as the sinister Bill Sikes (odd, too, how the film title matched the actor's name). The film was a huge hit worldwide and even won the best picture Oscar. Oliver Reed was now a big name.
_______________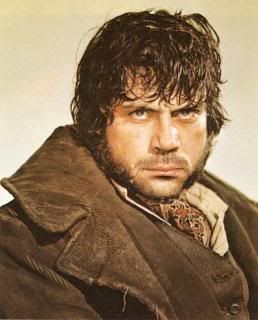 This led to my favorite Oliver Reed role, in
The Assassination Bureau
(69), an enjoyable steampunk comedy-adventure in which he was perfect as the debonair scoundrel winking at the audience in a series of escapades. He was teamed with Diana Rigg (of the famous
Avengers
TV show) and Telly Savalas as the main villain, and his dry line delivery with them was priceless. In a way, this was Oliver's amusing version of the James Bond role, as he was rumored to be one of the contenders to replace Sean Connery in the 007 role (in real life, Oliver, at a restaurant, ran into the eventual replacement, George Lazenby, who decked Oliver when he wasn't looking - at times, life is stranger than fiction). He continued to work with Winner and Russell: in the offbeat
Hannibal Brooks
, in which he was a prisoner-of-war escaping with an elephant, and in the famous
Women in Love
, a big hit that propelled Oliver to the front ranks of stardom (it's remembered now for the nude wrestling scene with Alan Bates and the first display of frontal male nudity). Arguably, Oliver hit his peak here, just as the seventies were starting, and inevitably there must come the slow decline.
As with many stars who hit the real big time and were very in demand, Oliver took a number of disposable roles - just for the money - such as the now-forgotten
Take a Girl Like You
(70). He did reunite with Ken Russell for the controversial
The Devils
(71), which caused outcries from the religious sector, also encountering censorship problems and bans. He also starred in his first western,
The Hunting Party
, as an outlaw who kidnaps Candice Bergen; like Sean Connery in
Shalako
, he seemed out of place in it.
Sitting Target
(72), inspired by
Get Carter
, was a violent thriller with him as an escaped convict, emphasizing his intensity as a criminal-type. There was also the sci-fi piece
Zero Population Growth
or
ZPG
for short, a ponderous tale of a depressing future, and he was subdued in it. He was in a few forgettable films at this time, expanding to continental roles such as the Italian
Revolver
(73), but he had at least one great role left in him and that was as Athos in
The Three Musketeers
(73) and its companion piece,
The Four Musketeers
(74). These had an all-star cast, including Heston as the scheming Cardinal, but Oliver was credited first, and he was the heart and soul of these films. Also, perhaps no other role suited him better than Athos, the hard-drinking, morose and explosive member of the Musketeers.
________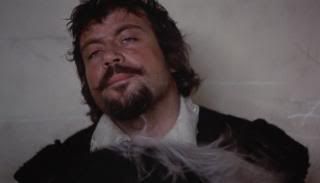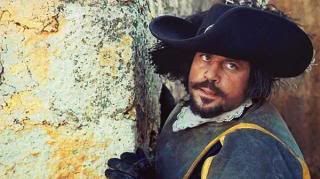 On the downside, among all the numerous offers he was now getting, some of his choices were questionable:
Blue Blood
(73) was very low budget, with Oliver as a butler using satanic methods; he was paid little and did it, one supposes, because it was a short work schedule. There was a remake of
And Then There Were None
(74 a.k.a.
10 Little Indians
), which was more interesting for the behind-the-scenes battles (meaning, physical fights, not just verbal disagreements). These did nothing for his career and he rejected opportunities to go to America to improve it, content to remain in his beloved homeland (among the parts he turned down were two roles eventually played by Robert Shaw - the first in
The Sting
and the other in
Jaws
; these might have really boosted Oliver's career). He worked for Ken Russell again, to great effect, in the musical
Tommy
(75) and was amusing as the villain in the period comedy adventure
Royal Flash
. Less amusing was his goofy Indian role in the comedy western
The Great Scout and Cathouse Thursday
(76), with fellow hellraiser Lee Marvin. He finally accepted work in American films, doing an American accent, because work in Britain had dried up.
It's a rather strange thing with Oliver in the seventies - he began to lose his youthful slim shape as the decade wore on, and his expanding girth somehow made him less suitable for contemporary roles. For example, he seemed somewhat unsuitable playing modern males in the horror film
Burnt Offerings
(76) and the thrillers
Ransom
&
The Sell-Out
, looking overweight in a suit. But, film him with a beard and in period costumes, as in the Musketeers films and
Crossed Swords
(77) and he can do no wrong. To this extent, he was similar to Heston, who was also in the latter film, along with several other big stars; it was one of the last truly enjoyable films Oliver was in. Back in a suit as a retiring cop in
Tomorrow Never Comes
(78) and there's just not much there. He was starting to look rather beefy by the time he took a small role in
The Big Sleep
remake, for a chance to work with Robert Mitchum. As the '70s came to a close, Oliver was now being seen in either decent small films (
The Class of Miss MacMichael
, the horror effort
The Brood
) or truly execrable ones (
A Touch of the Sun
;
Dr. Heckyl and Mr. Hype
). As with most such film careers, time and age wear away the prestige and the gloss.
_________
___
ABOVE

: with Klaus Kinski in

VENOM

(81); reportedly, the two actors hated each other instantly
Oliver starred in one more late epic,
Lion of the Desert
(81), as a general up against resistance fighter Anthony Quinn, before being relegated to supporting roles and TV. The better of these was probably
Venom
(81), a thriller boasting a big cast (Klaus Kinski, Sarah Miles, Sterling Hayden, Nicol Williamson, Susan George) and a Black Mamba. Oliver played one of the villains; he was also the villain in the super-hero spoof
Condorman
- it's actually surprising that he didn't play more villains since he was a natural for it. There
were
villains but the roles got worse - a bad horror film,
Spasms
(83); the belated sequel to
The Sting
, in which Oliver, strangely, played the Robert Shaw role; a lame comedy-fantasy,
Two of a Kind
, in which he played the devil; and a cameo in the erotic
Fanny Hill
. There was a mini-series for Italian TV,
Christopher Columbus
(1985). And, there was a chance to return to the glory days of big roles, in
Castaway
(86), in which he was a big-bellied Falstaff-type - much like himself - who purposely strands himself on a deserted island with a younger woman (14 years later, Tom Hanks would star in
Cast Away
, but without a female companion). The
Castaway
role should have revitalized his career, but Oliver sabotaged himself by appearing intoxicated on talk shows, sending the message that he was unemployable.
Dragonard
(87) and its sequel,
Master of Dragonard Hill
(filmed at the same time), as well as
Rage to Kill
(88) and
The Revenger
(89). There was also
Gor
(87), a sci-fi fantasy based on the famous series of books by John Norman, and
Skeleton Coast
(88). One bright spot here was Oliver's role as the god Vulcan in Terry Gilliam's
The Adventures of Baron Munchausen
(88); Gilliam was a fan and believed that Oliver's talent was being wasted. Oliver brought a lot of humor to his role. The other promising film was the sequel
The Return of the Musketeers
(89). Oliver was, obviously, a much older Athos now, as were the returning cast (most returned to reprise their roles) and much of the magic was gone, not helped by a rushed schedule and the death of actor Roy Kinnear during filming. The film was released theatrically in Europe but only on cable TV in the USA.
Oliver now leaned towards classy TV films: besides
The Lady and the Highwayman
(89), he was offered the part of Billy Bones in the now-very respected TV version of
Treasure Island
(1990). This marked the 4th film that Oliver did with Charlton Heston, yet in all 4 films, the two great actors had no scenes together! Oliver then appeared in
Prisoner of Honor
(91) as (again) a general; this was the last time he worked with Ken Russell. Overall, though, Oliver's career in the nineties was in trouble; besides TV, only offers for low budget action pictures came in and these didn't pay much - stuff like
Blind Justice
and
Hired to Kill
(both 1990), and then even those stopped. He finally got one interesting offer, to be in the sequel to the great TV mini-series
Lonesome Dove
, titled appropriately
Return to Lonesome Dove
(93). Oliver was still regarded as a high risk, but he was brought in at the last minute to replace Nicol Williamson, who had to pull out. Oliver came through as a cattle baron in this 3-part mini-series, acting opposite a then-very young Reese Witherspoon as his wife (reflecting Oliver's real life situation).
____________________
However, the rest of the nineties were desolate as far as his career; there were a few small films that were barely seen -
Superbrain
and
Russian Roulette Moscow 95
(both 1995), then
The Bruce
(1996, like a sequel to
Braveheart
) - and otherwise almost nothing. Most people probably forgot about Oliver Reed the film star. He did a bit part for his buddy Michael Winner when director Ridley Scott asked Oliver to audition for a part in his next film. Oliver was annoyed, having last auditioned for anything back in the early sixties, but complied. He won the role of Proximo in
Gladiator
(2000) because it required an older Brit actor who plausibly used to be a gladiator. This was a huge big-budget production and would have been Oliver's comeback but, as we now know, he died a week before finishing the role - dying as he lived, arm-wrestling in a pub. Some changes to his character's story arc, the use of a double and a bit of CGI tinkering was required to complete the role but it worked out well for the film - it went on to win the best picture Oscar. Oliver was nominated for a BAFTA. He didn't see these results but he went out swinging and on the rebound. The film was dedicated to him.
_______________