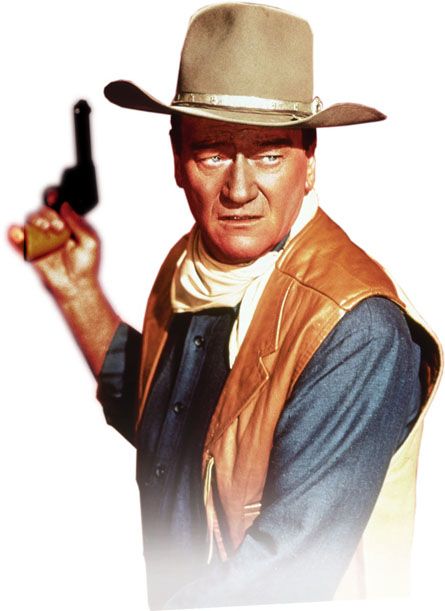 John Wayne - the Duke - was born Marion Robert Morrison on May 26, 1907 at 216 South Second Street in Winterset, Iowa, the son of pharmacist Clyde Morrison and his wife Mary. Clyde developed a lung condition that required him to move his family from Iowa to the warmer climate of southern California, where they tried ranching in the Mojave Desert. When the ranch failed, the family moved to Glendale, California, where Marion delivered medicines for his father, sold newspapers and had an Airedale dog named "Duke" (the source of his own nickname - and other sources explain how local firemen got to calling the 10-year-old kid "little Duke" - he didn't acquire this famous nickname in Hollywood and it was a welcome change from "Marion").
_____________________________________________
When he narrowly failed admission to Annapolis, he went to USC on a football scholarship for 1925-27. Wayne played on the USC football team under coach Howard Jones. A broken collarbone injury curtailed his athletic career; the actual cause of his injury was a body-surfing accident. He lost his athletic scholarship and, without funds, had to leave the university. Wayne began working at the local film studios. Tom Mix got him a summer job as a prop man in exchange for football tickets. On the set, he became close friends with director John Ford for whom, among others, he began doing bit parts.
His earliest uncredited bits were as a Yale Football Player in the 1926 film
Brown of Harvard
and as a guard in
Bardelys the Magnificent
. He was credited as "Duke Morrison" only once, in the 1929 film
Words and Music
. Director Raoul Walsh saw him moving studio furniture while working as a prop boy - carrying a big armchair above his head with flair - and cast him in his first starring role in
The Big Trail
(1930). For his screen name, Walsh suggested "Anthony Wayne", after Revolutionary War general "Mad Anthony" Wayne. Fox Studios chief Winfield Sheehan rejected it as sounding "too Italian." Walsh or John Ford then suggested "John Wayne." Sheehan agreed, and the name was set. Wayne himself was not even present for the discussion but he later was aware of its qualities - "it's a name that goes well together," he told an interviewer "...and it's like one word - John Wayne." His pay was raised to $105 a week.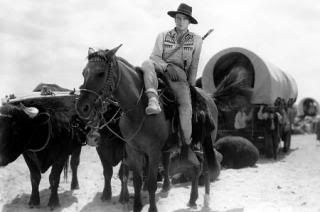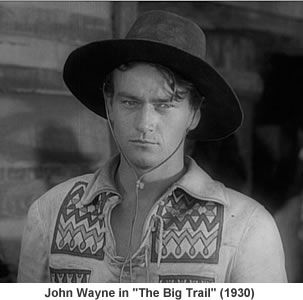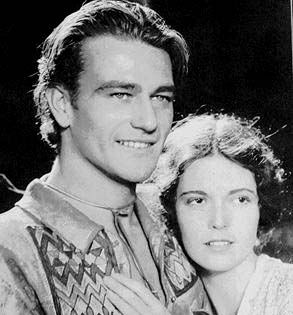 The Big Trail
was the first big-budget outdoor spectacle of the sound era, made at a (then-) staggering cost of over $2 million, using hundreds of extras and wide vistas of the American southwest. Filmed in two versions, a standard 35mm version and another in the new 70 mm Grandeur film process, the audience who saw it in Grandeur stood and cheered. Unfortunately, only a handful of theaters were equipped to show the film in its widescreen process and, despite being highly regarded by modern critics, the film was considered a huge box office flop at the time. (Wayne looks impossibly young in this very old film - I'm too used to seeing him in films of the fifties and sixties).
After the commercial failure of
The Big Trail
, Wayne was relegated to small roles in A-pictures, including Columbia's
The Deceiver
(1931), in which he played a corpse. He appeared in the serial
The Three Musketeers
(1933), an updated version of the Alexandre Dumas novel in which the protagonists were soldiers in the French Foreign Legion in then-contemporary North Africa. He played the lead, with his name over the title, in many low-budget "Poverty Row" westerns, mostly at Monogram Pictures and serials for Mascot Pictures Corporation. By Wayne's own estimation, he appeared in about eighty of these horse operas from 1930 to 1939. In
Riders of Destiny
(1933) he became one of the first singing cowboys of film, albeit via dubbing. Wayne also appeared in some of the Three Mesquiteers westerns, whose title was a play on the Dumas classic. He was mentored by stuntmen in riding and other western skills. He and famed stuntman Yakima Canutt developed and perfected stunts and onscreen fisticuffs techniques still used today.
______________
Then, John Ford cast Wayne as The Ringo Kid in the adult western
Stagecoach
(1939), which was a big critical & commercial success, and this finally turned Wayne into a mainstream star. He was cast alongside then-bigger star Claire Trevor; they were reunited in
Dark Command
(1940) and the early airplane disaster film
The High and the Mighty
(1954), at which point Wayne was the #1 star. Ford cast him again in
The Long Voyage Home
(1940). Wayne's 1st color film was
Shepherd of the Hills
(41) and his only work for DeMille was
Reap the Wild Wind
(42), one of Wayne's rare less-honorable characters. Wayne was paired with Marlene Dietrich in
The Spoilers
(42), which had his famous long fight with Randolph Scott. He was also big in war pictures -
Flying Tigers
(42),
The Fighting Seabees
(44),
Back to Bataan
(45) and
They Were Expendable
(for Ford again). He was nominated for an Oscar for
Sands of Iwo Jima
(49), losing out to Broderick Crawford.
____
Most of Wayne's even more classic films - and there were many - were with John Ford; Wayne once said that while many people had directed his films, John Ford directed his life. Their collaborations include the famous Cavalry trilogy -
Fort Apache
(48),
She Wore a Yellow Ribbon
(49-their personal favorite)) and
Rio Grande
(1950) - as well as fan favorite
The Quiet Man
(52) and the matchless western classic
The Searchers
(56), perhaps Wayne's greatest role - he was intense and unlikable, but unforgettable and majestic. They did further great westerns -
The Horse Soldiers
(59), the quietly powerful
The Man Who Shot Liberty Valance
(62-with James Stewart) and one small segment of
How The West Was Won
(62). They ended their teaming with the comedic
Donovan's Reef
(63).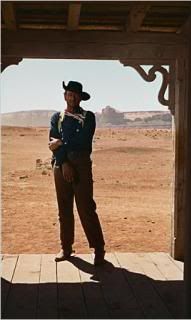 Wayne's other classic westerns were with director Howard Hawks, beginning with
Red River
(48), in which Wayne had to play older than he was for much of the film and in conflict with the much different actor Montgomery Clift. It was also when critics first actually took notice of Wayne. Hawks also directed him in another unofficial western trilogy:
Rio Bravo
(59),
El Dorado
(67-my personal favorite) and
Rio Lobo
(70), as well as the African adventure
Hatari!
(62). Wayne directed himself a couple of times: the first was for his personal project, the epic
The Alamo
(1960), in which he played Davy Crockett (a rare death scene for him) and then the Vietnam War pic
The Green Berets
(68), which anti-war proponents are quite critical of. He also directed much of
The Comancheros
(61) because the actual director, Michael Curtiz, was ill with cancer at the time. The same holds true for
Big Jake
(71), during which director George Sherman was sick.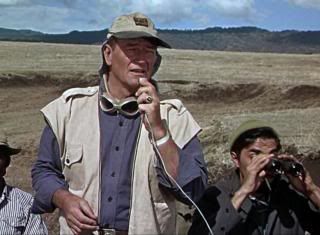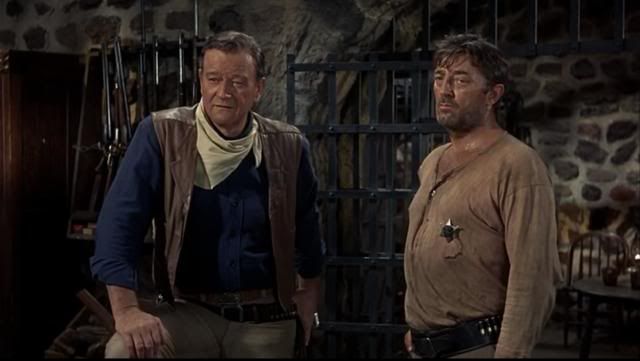 ABOVE

: Wayne in Hatari! (62) and showing 'em how it's done in

EL DORADO

with Robert Mitchum; do

not

annoy them!
In the late fifties and through the sixties, Wayne was not only a big star, he was in many ways
the
big star - the undisputed top-rated star in terms of box office, popularity and longevity. He was the top-billed star in more movies than any other star by the time the seventies began and his films grossed more combined than those of any other star (this was before guys like Harrison Ford and the Star Wars films came around). Wayne was paired with many other top male stars during this period and he was always billed first. The only other one who approached this level of stardom was Clark Gable - The King - but he passed away prematurely in 1960. Wayne finally won the Oscar for his role of a one-eyed lawman in
True Grit
(69), a more cranky, craggy character than his usual amiable cowboys, a role he repeated in
Rooster Cogburn
(75), paired with Katharine Hepburn, of all people.
Wayne ended his incredible run in the western
The Shootist
(1976), playing an elder gunslinger who learns that he's dying of cancer and decides to go out in a style more customary to his nature - it was a very fitting final role. Wayne himself had serious health problems going back to the early sixties - lung cancer due to smoking but perhaps linked to his work on
The Conqueror
(56), which was filmed at a location rumored to be contaminated with radioactivity. Surgery removed his left lung in 1964. He suffered a stroke in 1974. The cancer returned in the late seventies and he died of stomach cancer on June 11, 1979.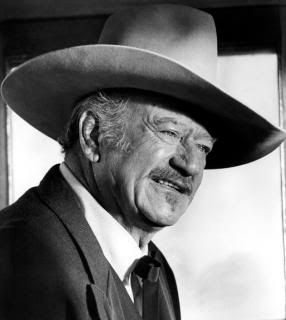 < ol' Rooster - do

not

annoy him!
Wayne was a big man in more ways than one - he was about 6' 4" (even taller than Heston) - bulky - imposing and obviously intimidating both on and off-screen - but he loomed even larger on the big screen, usually monolithic in his roles, dominating any situation with an ease that was truly mythical. He was almost 70 when he filmed
The Shootist
and still seemed in his prime, still the big star, the tough hero. His critics play down his acting ability, but I remember stories of a neighbor witnessing Wayne studying his lines, perfecting them, going through them until they were done just right. Steve McQueen has been quoted as saying "Sometimes kids ask me what a pro is. I just point to the Duke." John Wayne was, perhaps, the greatest movie star of all time.