There's a key scene in the minor epic
Barabbas
(1961) when Palance - as a champion gladiator - is attempting to ride down Anthony Quinn with his chariot and he lets out this hideous laugh. It's an awfully gruesome laugh, combining bravado and insanity; no one else could let loose such disturbing laughter - only Jack Palance.
Supposedly, Palance was the beneficiary of plastic surgery before he became an actor - the story told was that he was burned in a mishap during a flight training incident in WWII. However, after he died, this story was said to be the creation of press agents. In any event, his unusual angular features - as if drawn from some EC crime comic book - suits his natural progression to film star, as if it were his destiny. In the late forties, he understudied Brando on stage for
A Streetcar Named Desire
. His start in film was at the same time as Brando and Heston, in 1950's
Panic in the Streets
. He played a killer-on-the-run who also carried a plague which threatened to wipe out the whole city.
______________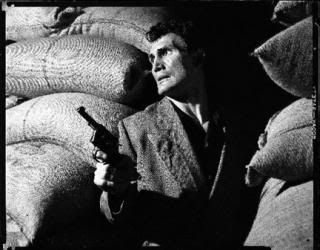 Palance was also part of an ensemble in the war film
Halls of Montezuma
(51), but he was mostly seen as bad guys or threatening figures in the next few years. Besides his facial features, he was very tall - 6' 4" - and lean muscled, so it was easy for him to be imposing and intimidating. Palance might have been typecast as killers and criminals for all his career - he was indeed a natural for such roles and excelled at them in the fifties. But, as it turned out, even in this early phase of his career for some reason, he ended up playing actors as characters, notably in
Sudden Fear
(52) and
The Big Knife
(55); casting directors may have thought he would do well playing people '
in the biz
' as it were. That's not to say he still didn't play menacing characters; his failed actor in
Sudden Fear
plots to kill his wife (Joan Crawford) - why she fell so in love with him in the first place is the big mystery, but Palance was on his way to the big time even as he was creeping out audiences.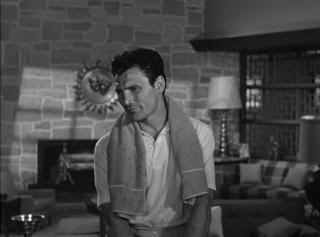 After all this time, the role that most film fans identify with Palance is his hired gunman in
Shane
(53). Sure, Alan Ladd was the hero and it also had Van Heflin as the decent farmer, but ask most people - the scenes they recall most vividly are the ones with Palance: dressed in black, like an emissary from the realm of death, with a voice to freeze the soul. That was the thing with Palance - even if he wasn't playing the main character, it was still his scenes that most viewers remember best. He also played opposite Heston in
Arrowhead
, as a hostile Indian, and as a Jack the Ripper-type killer in the mystery
Man in the Attic
. Palance's characters also usually seemed at least a bit crazed - that's what set Palance apart - as in the small epics
The Silver Chalice
(54-as a demented magician) and
Sign of the Pagan
(as Attila the Hun).
____________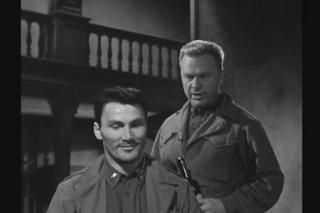 Even when Palance began to switch towards heroic characters, that hint of madness didn't go away: he was the heroic Lt. in the war film
Attack!
(56), up against Eddie Albert as a despicable captain, but Palance still came across as disturbing, bent. His confrontation with a tank in the final act gave me nightmares as a kid and when he returned almost from the dead in his final scenes, it reminded me of scenes from
Night of the Living Dead
(68). Palance also acted in the now-famous TV version of Rod Serling's
Requiem For a Heavyweight
in '56, which garnered him an Emmy. His career began to go a bit sideways as he took roles in European films, such as
The Barbarians
(1960) and
The Mongols
(61). He did end up in Jean-Luc Godard's acclaimed
Contempt
(63), as a movie producer opposite Brigitte Bardot. He did his first regular TV series role, in
The Greatest Show on Earth
(63-64; like a TV version of Heston's '52 film). He also seemed to mellow in the sixties; for example, rather than the brutal Mexican bandit which he appeared to be in
The Professionals
(66), he was instead a sympathetic character by the end.
________
However, even though he tended to play more establishment figures as he got older, such as law officers (
They Came to Rob Las Vegas
'68), there was a predisposition towards horror and monsters as the career began to wind down. There were TV film versions of
Dr. Jekyll and Mr. Hyde
(68) and
Dracula
(Marvel Comics artist Gene Colan based his illustrations of Dracula in the famous seventies comic book series
Tomb of Dracula
on Palance) and the anthology
Torture Garden
(67),
Justine
(69) and
Craze
(74). He played Castro in
Che!
(69). As he reached a certain age - 50 - and with the close of the sixties, Palance took 2nd lead roles supporting bigger stars, usually in westerns:
Monte Walsh
(70) as Lee Marvin's sidekick; as Omar Sharif's father in
The Horsemen
(71); attempting to capture Charles Bronson in
Chato's Land
(72); fighting Bud Spencer in
It Can Be Done Amigo
and in conflict with George C. Scott in
Oklahoma Crude
(73).
_____
__
ABOVE

: in

Craze

(74) and, in the credits scene at the start of

The Four Deuces

, Palance is seen chuckling


_______

over a Batman comic strip, as if foreshadowing his other crime boss role of over a decade later...
In the latter half of the seventies, Palance was back to foreign-language films, taking roles in low budget European crime thrillers (
The Four Deuces
;
Bloody Avenger
;
Mr. Scarface
) and other exploitation fare (
Sensuous Nurse
;
Black Cobra Woman
;
Safari Express
). Also, there was the unusual sci-fi western
Welcome to Blood City
(77), a version of HG Wells'
Shape of Things to Come
(79) from Canada and the very unusual but tedious
Cocaine Cowboys
with Andy Warhol. He also did some TV - the series
Bronk
(75-76), a guest spot in
Buck Rogers
(79) and the cheesy telefilm
The Ivory Ape
(80). The eighties were nearly a wasteland for Palance; he began with hammy roles in low budget sci-fi/horror pics which eventually achieved some cult status:
Without Warning
(80),
Hawk the Slayer
and
Alone in the Dark
(82) and then there was a gap of 5 years while he hosted
Ripley's Believe it or Not
on TV, until some more small-time sci-fi:
Gor
(87) &
Outlaw of Gor
(88).
__
___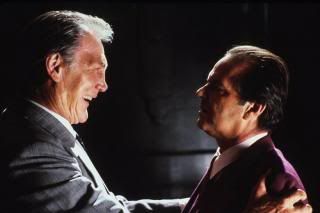 But, at the same time, Palance reached the rarefied air of a living legend - there were now 4 decades of movie roles behind him and filmmakers wanted to cast him based on all those classic roles stretching back to the fifties.* The first was in the German comedy film
Bagdad Café
(87). Next, as a thuggish overlord in the
Young Guns
(88) western. Finally, he was picked for the crime boss role in
Batman
(89), as one of the few older actors who could make Jack Nicholson uneasy. Palance followed up with more special supporting roles in
Tango & Cash
and the sci-fi debacle
Solar Crisis
(90), which also featured Heston. His big comeback, for which he finally won the Oscar, was in the comedy-western
City Slickers
(91), as an old cowhand tolerating Billy Crystal. This resulted in him briefly returning to starring roles, in the comedy
Cops and Robbersons
(94) with Chevy Chase and the
City Slickers
sequel.
*
a similar thing happened with Heston in the early nineties; filmmakers hired him for key supporting roles based on his many classic fifties & sixties movie roles.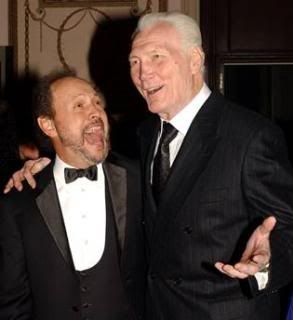 Perhaps fittingly, Palance upstaged his own career during the 1992 Oscars, insulting Crystal while accepting his award and doing one-handed push-ups on the stage (he was over 70). I remember this well, watching it back then as it happened, and probably many others do, as well; this was such a spellbinder that the 1993 Oscar ceremony featured Palance with Crystal in a return performance, like a sequel; as a result, the rest of his career was sort of an after-thought and forgettable, composed of various TV movies and another version of
Treasure Island
in 1999 (he played Long John Silver, Heston's role in his own version in 1990). He publicly pointed out at least once that he was Ukrainian, not Russian, to make sure everyone understood the distinction. I could relate.