There was a really unusual interview with Chuck Heston on a show called
Space Ghost Coast to Coast
: Space Ghost was a famous cartoon hero from the sixties; in the nineties - starting in 1994 - someone got the bright idea to place him as the host of an amusing talk show - with real guests on monitors. Chuck, the 1st Oscar-winner on the show, got around to it in the 4th season, on the 12/05/97 aired episode (#54), titled "Dam." Really? Really!
_________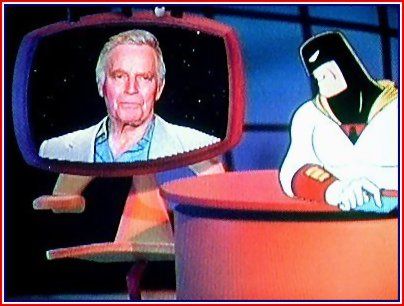 I haven't seen this, unfortunately, but from what I read, it went something like this:
Space Ghost
:
So your name is Heston? Chuck Heston? Cheston! May I call you "Cheston?"
Charlton Heston
:
NO!
--------
http://billcainonline.com/?paged=14
Also, I found a 23-second clip of this on
youtube
:
https://www.youtube.com/watch?v=rYfaxpHYqW8
These interviews were done kind of tongue-in-cheek and maybe weren't very respectful,
but I also read that by that time (1997), guests like Heston were 'in on the joke' and just went along for the ride.
However, I also get the impression that Heston was actually interviewed by someone else and the footage was
simply placed into the Space Ghost show; the so-called 'interview' is marked by non-sequiturs which suggest
that Space Ghost isn't
really
interviewing the guest. I'm not that familiar with the show, so I'm not sure...