What if Heston starred in another Apes film in 1968, in another reality? This idea came upon me suddenly when I noticed an old Gold Key comic book from that year. For reasons I can't recall, Gold Key published a special comic book adaptation of
KING KONG
in 1968; maybe there was a resurgence of interest in the film back then = Japan had released a King Kong film only a year or so earlier and maybe there was a re-release of the 1933 film going on also. But, what if there was an American remake of
KING KONG
in 1968..?
(instead of 1976)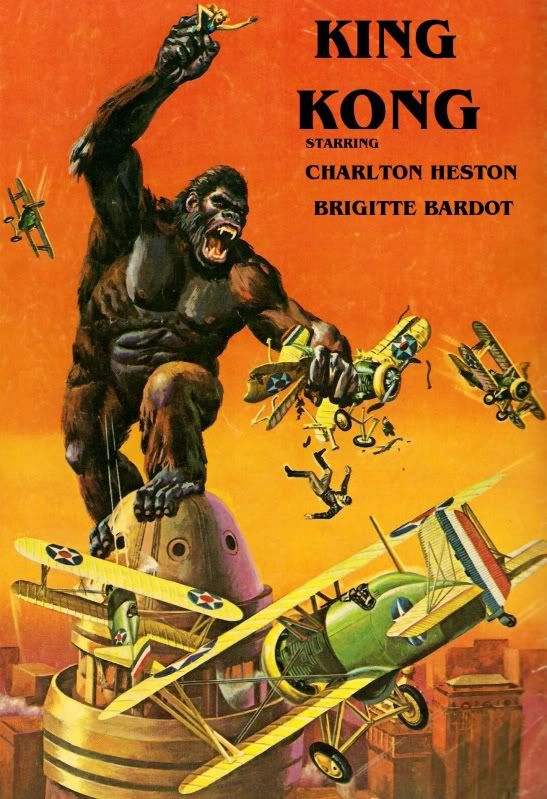 This version would veer from the original slightly: Heston would play a 'Great White Hunter' type who sought to kill (then capture) the ultimate game - Kong on a prehistoric island. Bardot would be in the blonde female role and the object of the giant ape's affections. When they got the captured Kong back to New York City, the ape would break free on the docks and start his rampage there. Heston's character, a flier from the Korean War, would be one of the pilots shooting at Kong from an airplane in the climax; it also ends up on the Empire State Building (in 1968, the World Trade Center had not been built yet).
Kong manages to destroy most of the airplanes and, in the end, Heston bears down on the giant in his single-engine airplane, yelling "
Take your stinking paw off that girl..!
" and "
Take this, you damn dirty giant ape..!
" Who wins...?