We almost lost Harrison Ford today, but much like his movie counterpart Indiana Jones, he keeps surviving these little airplane crashes. Ford is probably best known as Indiana, first appearing in  
Raiders of the Lost Ark
(81) and then several sequels, even more than his
Star Wars
character, Han Solo, because he was just one part of the big machine that makes up the huge
Star Wars
saga, while he was the central figure of all the Indiana movies. It was not always so, of course. When the first
Star Wars
film came out in 1977, it was soon revealed to all the many new fans that Ford was not a new, overnight star that many assumed him to be (part of the reason for this assumption is that Ford had not been seen in any films for several years prior to the 1st
Star Wars
, just in a little TV).
No, Ford began his Hollywood career a full decade before the 1st
Star Wars
(1977) was cast by George Lucas, an uncredited bit part as a bellboy in the James Coburn comedy-thriller,
Dead Heat on a Merry-go-Round
(1966). Ford was officially introduced in the next year (as perhaps a future star) in an episode of
The Virginian
western TV series, "
The Modoc Kid
" - he played the youngest member of a bank robbing gang who might go straight. I finally watched this episode on TV only a couple of years ago and it struck me then that Ford was pretty much the same in this as he was in his later starring roles in the late seventies and the eighties. His film screen persona was already stuck in place at this early stage and audiences either went with him or not - it reminds me of Heston, who similarly presented his well known star persona as early as in
Dark City
(1950).
RIGHT: in the episode of

THE VIRGINIAN

"

The Modoc Kid

"
>
But, things didn't go as smoothly for Ford: he was featured in a couple of westerns -
A Time For Killing
&
Journey to Shiloh
(68) - again seeming to be the new rising young star with many possibilities, but things went backwards for him from there... or they just went nowhere. He guested on a few TV series, but film roles were far and few in-between, and even then very small parts: a small role in
Getting Straight
(1970) and then nothing until Lucas cast him as an obnoxious racer in
American Graffiti
(73); even there, the stars were Richard Dreyfuss, Ron Howard and Paul le Mat; Ford was far down the cast list. He also got a small part in the Gene Hackman thriller,
The Conversation
(74). It was sometime during this period that Ford was forced to become a full time carpenter to make ends meet; the film career seemed all but over.
RIGHT: in a 1976 TV Movie called "

Dynasty

"
>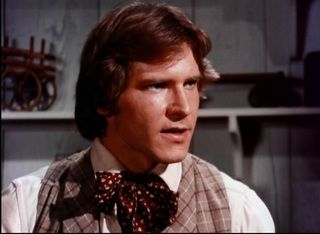 But, Lucas ended up picking the now-35-year-old Ford for the Han Solo role in
Star Wars
- Ford was brash, still obnoxious and flamboyant as the roguish smuggler in the western-styled space adventure, probably the biggest film - sci-fi or otherwise - in film history. This time, audiences went with him - his was the most entertaining role and he did what most of the biggest stars in Hollywood history have done, that is make all the viewers either want to be him or be with him. It's that old saying, either you have it or you don't. It's less about actual acting talent and more about a persona that people admire. But, he did try to prove his acting chops - about that same time he played a Vietnam vet, a supporting role, in
Heroes
, a quirky dramedy starring Henry Winkler. He went for old-fashioned action - the WWII adventure sequel
Force 10 From Navarone
(78) with Robert Shaw and
Hanover Street
(79). He supported Gene Wilder in a strange comedy-western,
The Frisco Kid
.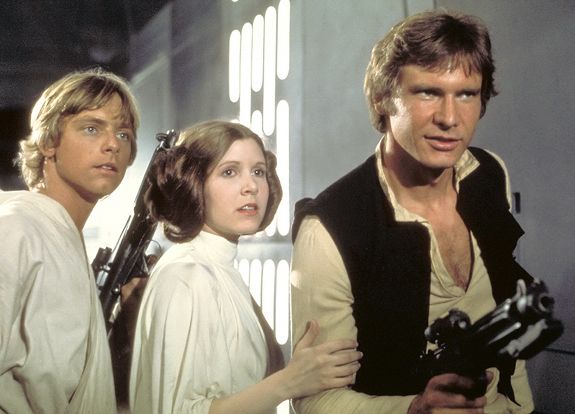 These did nothing for his career and he returned in the 2nd Star Wars film,
The Empire Strikes Back
(80), an expected huge hit. Then Lucas and Spielberg picked him for Indiana Jones (Tom Selleck almost got the part but was contracted to stay with his TV series,
Magnum P.I.
).  
Raiders of the Lost Ark
was another runaway hit, the biggest film of the year, and solidified Ford as one of the most popular actors of all time.  Though ostensibly a recreation of old-time cliffhanger serials, it's no secret to many film fans, such as the board members here, that the conception of Indiana - especially his appearance, but even his attitude - was influenced by Heston's Harry Steele, of
Secret of the Incas
(1954) fame.  This was the concept of the leather-jacketed iconic adventurer taken to an ideal level. Ford played him again in  
Indiana Jones and the Temple of Doom
(84) and
Indiana Jones and the Last Crusade
(89).
_____
Not all his other eighties roles were successful - though considered a science fiction classic now,
Blade Runner
(82) was a box office failure. Audiences at the time perhaps didn't like the more morose Deckard character, a future cop/hunter, which Ford played here. After the Star Wars finale,
Return of the Jedi
(83), Ford tried more dramatic roles -
Witness
(85) was a success, but
Mosquito Coast
(86) was a puzzlement; Ford played an eccentric father who dragged his family around to different locales. It just wasn't Ford-like, in the eyes of many. I also noticed that his roles in other standard thrillers such as
Frantic
(1988),
Presumed Innocent
(90) and dramas like
Regarding Henry
(91) were problematic for me; Ford seemed too nervous in half his scenes, as if he was trying too hard to play the everyman in these, the modernized Jimmy Stewart, rather than the stalwart Heston/John Wayne hero. These just didn't work very well with me. In dramedies like
Working Girl
(88) and
Sabrina
(95), he was serviceable, not much more - now he was sort of stepping into the Cary Grant shoes and he just wasn't much like Grant.
He still seemed too nervous to me in the big action thrillers - the two Jack Ryan adventures,
Patriot Games
(92) &
Clear and Present Danger
(94), and also
The Fugitive
(93) and
Air Force One
(97) - acting too tensed up, lip trembling, as the average man faced with spectacular danger, but these were all big hits, especially the latter two. It just showed me that Ford was best suited for confident, unapologetic hero archetypes - even if they're mostly getting by on bluff (Han Solo) - it's that brash, almost insolent personality that suits him best and which is most enjoyable, the Harry Steele/the Duke/Burt Lancaster template. And, maybe that's one reason he returned to the Indiana Jones role - a few years too late - in 2008's
Kingdom of the Crystal Skull
, after a string of box office failures (his last hit was
What Lies Beneath
in 2000, in which he played somewhat sinister, helped by Michelle Pfeiffer).
_________________________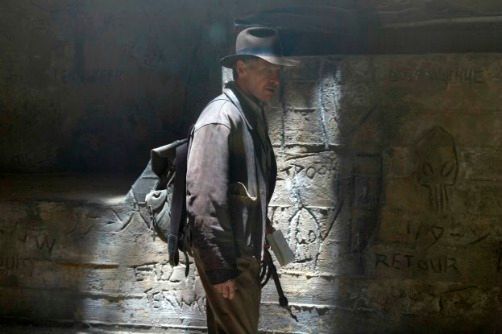 And, that may also be why he's returning in yet another Star Wars film (supposedly coming out late in the year) - there's no getting away from the kinds of roles that he is almost obligated to do. I recently saw him in his latest - a small role in Stallone's retro-eighties action redux
Expendables 3
- and even though he is looking most of his age, he was still acting tough and taking no prisoners. That's not bad for a 70+ year old.