The Cid... represents for me an ultimate role for Heston. He took his experience and what he learned from his roles in the previous epics,
The Ten Commandments
and
Ben-Hur
, and applied them to this ultimate heroic model; it was a confluence of some events. The Cid never compromises... not his honor nor his principles; he stands head-&-shoulders above all other men. Could anyone but Heston have played him? I think not.
Heston himself was fairly critical of this film; he would have preferred that William Wyler directed this one, perhaps instead of
Ben-Hur
. But, every time I watch it - especially the DVD version which arrived not that long ago - I am struck by its beauty, its operatic drama and its sheer magnificence. There is a passion that informs each scene - including the fights; in other films, these are just swordfights; here, there's a history behind each swing, each blow.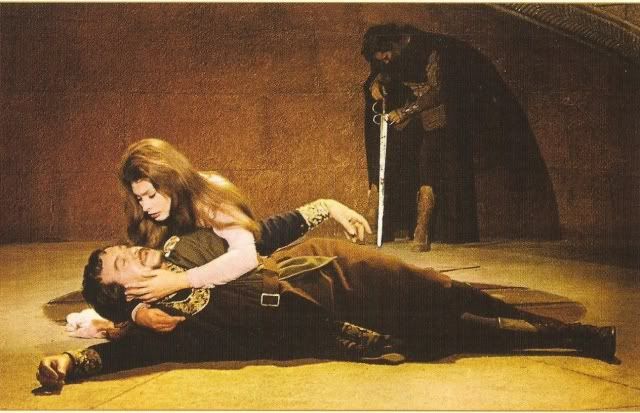 The other highlight for me are the duels and battles - the choreography is outstanding. I state now for the record - the one-on-one combat between the Cid and champion Don Martin on the field of Calahorra is, hands down, the single best such depiction in the history of cinema. They begin the standard tournament style on horseback and soon both men are on their feet; it's staggering and exhausting; I've seen it many times and each time I still think Heston has had it. I get tired just as a spectator.
This film's harshest critics point out how Heston's portrayal was nearly demigod-like by this point - no man could ever be like this Cid, who seems too virtuous, too inflexible, too invincible in his beliefs, like granite. I think they, unintentionally, are actually offering praise for Heston's capabilities with remarks like that.