I kept neglecting to comment on this mini-series - I did see it way back when it first aired and then one more time in the late eighties; on that 2nd time, I recorded a portion of the middle chapter on VHS.
Going by memory, Heston appears in all 3 'sections' and has to age from a sort-of young man to one closer to his real age at that time (1983). The sad part of this is that I don't remember the first or last sections very well. It's the middle part that contained this visceral punch which I still recall vividly - portions of it anyway. That's because, of course, the middle part is where I met Sunny, er, Sonny Butts (whatta name, uh?), the 2nd police chief, as played by Brad Davis (that's him below on the 1937 Harley Davidson).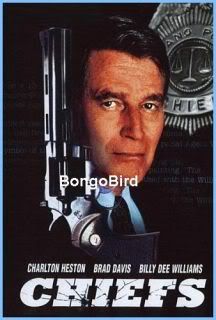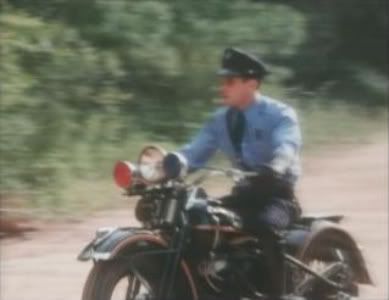 Brad Davis as Butts sneered, threatened, strutted and stomped his way through as the supposed war hero who was handed this job after the war and managed to blow it big time by the end of his 'career.' He was a racist and sadistic, yet I still couldn't help feeling a little sorry for him in the way he ended up (him and his motorcycle, I think), probably because the actor has this sympathetic air about him even as he's behaving like a terrible bully. Keith Carradine played the local... misfit, another memorable role.
I think what struck a cord with me was how it seems like Butts brought back some of the evils of the war, namely Nazi and Gestapo-like sensibilities, as he marched his way through small town Americana; it was as if he brought back a disease, as if he'd been infected by something. Davis sort of dominated the series, from my p.o.v.
As mentioned in the above posts, there's still no USA DVD of this one for some peculiar reason, though I suppose it's just a matter of time.