The name of Bronson has become synonymous with "tough guy of the cinema" or a "hard man." Before Stallone, before Schwarzenegger, before Chuck Norris, there was Bronson, Charles Bronson. He didn't start out with that name; in his earliest film roles, in 1952-1954, he was credited as "Charles Buchinsky," his birth name. His film debut was an uncredited bit in
You're in the Navy Now
(51), which was also the debut of Lee Marvin (by coincidence). Most people probably best remember him from this early period as the mute assistant to Vincent Price in the horror film
House of Wax
(53); this was a huge hit but didn't really advance Bronson's career (it
did
help Price). Bronson did have a good speaking part in next year's
Vera Cruz
(54), a big western starring Burt Lancaster & Gary Cooper. The story goes, Bronson picked out his famous screen name from Bronson's Gate at Paramount Studios.
___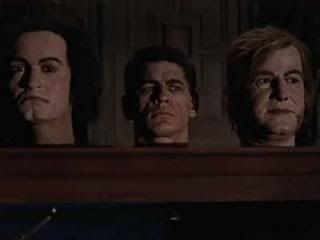 _
He was cast in supporting roles as both cowboys and Indians in the fifties, sometimes to show off his impressive physique, notably in
Apache
and
Drum Beat
(both 1954),
Jubal
(56) and
Run of the Arrow
(57). Though many people think he only started to get lead roles in the seventies (when he became a big star), he actually scored a few such roles in the late fifties, though these were in low budget films by producers like Roger Corman, such as
Machine-Gun Kelly
and
Gang War
(both 1958). He even starred in a TV series during this period for a couple of seasons,
Man With a Camera
(58-60). In fact, he did a lot of TV from the mid-fifties through the sixties, meaning guest spots. Back then, Bronson was in a situation that a few big stars, such as John Wayne, had in the past found themselves in: small parts in big films and big parts in small films.
__________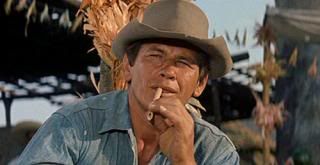 ___
The small films were the sci-fi
Master of the World
(1961, which reunited him with Price, though this time Bronson was the hero) and
X-15
(about test pilots). The big films are the ones he is remembered for, even though he wasn't the main star:
Never So Few
(1959, a war film),
The Magnificent Seven
(60),
The Great Escape
(63),
4 For Texas
(64),
The Sandpiper
(65),
Battle of the Bulge
(65),
This Property is Condemned
(66) and
The Dirty Dozen
(67, with Lee Marvin). Bronson's roles weren't really small; it's just that he was usually credited 4th, after the big stars. Bronson was closing in on 50 as the sixties were coming to a close and it sure seemed unlikely that his career would get better; his peers - the other macho 'ugly' or homely actors - notably Marvin, Anthony Quinn, Jack Palance, Richard Boone, James Coburn and Ernest Borgnine, had all managed to hit the big time some years before. Why wasn't Bronson able to do the same? Well, the right part hadn't come along and it took a bit longer with Bronson - but when it happened, he would be bigger than any of them, even Marvin.
In a way, the delay might have been Bronson's own doing - he turned down an offer from director Sergio Leone to star as the 'man with no name' in
A Fistful of Dollars
(64), which made a star of Clint Eastwood. Likewise, Bronson turned down offers to appear in the sequels, for roles eventually played by Lee Van Cleef and Eli Wallach. Perhaps there was a stubbornness involved in Bronson's decisions, a determination to make it big in American pictures, as opposed to some picture in Italy. By the late sixties, Bronson must have seen the writing on the wall and began appearing in international pictures. There still wasn't immediate success;
Guns For San Sebastian
(67) and
Villa Rides
(68) were standard westerns in which Bronson was supporting bigger stars Anthony Quinn and Yul Brynner. Then, Bronson was picked to co-star with French star Alain Delon in
Adieu L'Ami
(a.k.a.
Farewell, Friend
) after Richard Widmark was unable to. The film was the biggest picture at the box office in France that year (1968) and made Bronson a European star. It set the tone for his career in the next few years - a huge star internationally but not quite there yet in the USA.
___________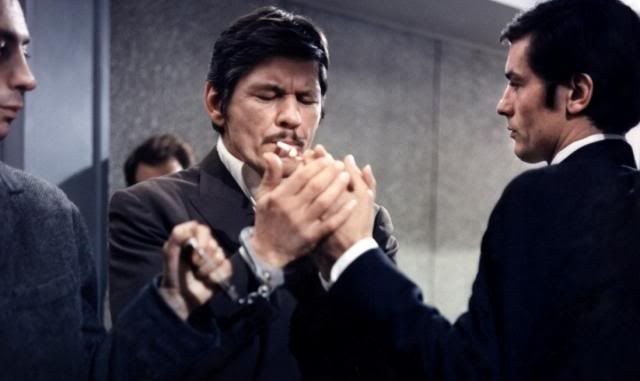 Bronson finally accepted a role in a Leone film,
Once Upon a Time in the West
(69), an epic western that still had him billed 4th after Henry Fonda, Claudia Cardinale and Jason Robards, but, by the end of the film, Bronson's 'man with a harmonica' easily held his own as a charismatic anti-hero in the Eastwood mode. The film was huge in Europe but faded out quickly in the USA due to poor distribution. The film that really 'made' Bronson and which he himself considers his real start as a big star was another French offering,
Rider in the Rain
(1970), a stylish suspense tale in the Hitchcock vein directed by Rene Clement. It broke box office records in Europe. There were other international films of varying quality - an adventure with Tony Curtis,
You Can't Win 'em All
(70);
The Family
a.k.a.
Violent City
; a thriller with James Mason,
Cold Sweat
; and
Someone Behind the Door
(71), another French suspense film. With these films, Bronson also presented himself in the appearance now associated with his 70s career, the long hair and thin mustache.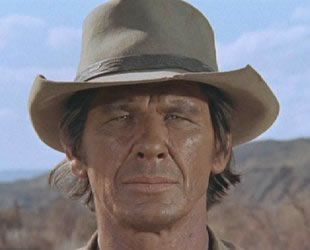 Quality didn't matter much at this point - Bronson was the biggest star in Europe and his fame soon spread to the Orient and South America. Some aspects of this new stardom were absurd: some of his TV episode appearances in the sixties were re-edited into fake 'undiscovered' films and released in Europe, such as "
The Meanest Men in the West
" - a pair of episodes cobbled together that also featured Lee Marvin. One of Bronson's most entertaining pictures at this time - an actual new western - was
Red Sun
(71), a quest adventure that pulled out all stops for international casts: it also starred Toshiro Mifune, Ursula Andress and Alain Delon. It wasn't just a gimmick, however; the cast worked together very well and Bronson was amusing as a gunslinger forced to team up with a samurai warrior. In 1972, he began a collaboration with United Artists and director Michael Winner for a pair of brutal action films - the western
Chato's Land
and the unique thriller
The Mechanic
. Bronson, in the role of a renegade Indian, had hardly any dialog in the western, relying on simply his presence. He played an idiosyncratic hitman in
The Mechanic
, one with his own unique codes and methods.
_______
____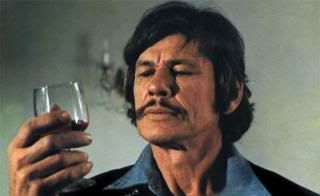 What set Bronson apart in roles like this were the subtle indications that he was far tougher than any average man. The posse which is after him at the start of
Chato's Land
seems doomed from the beginning, but there's nothing unbelievable about how it's presented - they just never had a chance against someone like Bronson (Chato). His perfectionist killer in
The Mechanic
displays the strength of his fingers in one scene - it's a sign that Bronson's character follows disciplines which elevate him beyond a normal man. In addition, Bronson wasn't simply playing heroes in this period - he starred in
The Valachi Papers
(another hit which followed in the wake of
The Godfather
's success), then
The Stone Killer
(73), in which he was a cop but using, again, brutal methods. One of his most entertaining performances was in
Mr. Majestyk
(74), in which his deceptively simple watermelon farmer proves to be tougher than the toughest criminal. It's also one of those roles where-in Bronson was relaxed and mirthful, providing for some genuinely amusing scenes.
____________
__
The next breakthrough for Bronson was
Death Wish
(74), the film which made him popular in the USA. The irony is that Bronson was cast against type in this Michael Winner offering. It was originally intended to star someone like Henry Fonda or Jack Lemmon, in the role of a meek accountant (architect in the final version) who becomes a vigilante in New York City. Bronson begins the film as a very typical, civilized work professional, who later becomes ill in his first instance of actual violence. It's only later in the story that Bronson becomes accustomed to and adept at killing. This film struck a cord due to the real-life increase in urban crime and spawned a franchise - several sequels of depreciating quality - the next one was in 1982. Bronson starred in
Breakout
(75), an average action pic with him as a pilot breaking Robert Duvall out of a prison.
_______________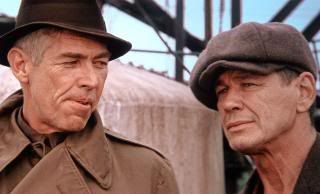 Bronson's best role, for which he sheared off most of his hair and mustache, was as a street fighter during the Depression era in
Hard Times
(75). He was over 50 and this required him to be shirtless for his fight scenes, but he had retained his awesome physique - he was all lean muscle and no one had trouble believing that he could knock out other tough fighters with incredibly devastating precision. No one else could have played such an older fighting man so well - and this is why it remains Bronson's ultimate role. It also paired him with James Coburn and the two were great as polar opposites. Bronson tried to stretch his acting muscles in more atypical roles, in
Breakheart Pass
(76),
St. Ives
(as a writer) and in the comedic
From Noon Till Three
. It also was apparent by this point that he was getting roles for his then-wife Jill Ireland in many of his films. He played Wild Bill Hickok in the strangely mystical western,
The White Buffalo
(77) and then a Soviet agent in the intriguing thriller,
Telefon
, which teamed Bronson with producers other than his usual ones and placed him more as a mainstream American star.
Reportedly, Bronson's insistence that there always be a role for his wife in his films may have reduced the number of films he appeared in. There was a gap in 1978 and his next film was a '79 release,
Love and Bullets
, which placed Jill Ireland prominently on the marquee with Rod Steiger, who played a mob boss.
Caboblanco
(1980) was like a rehash of
Casablanca
, while in
Borderline
, Bronson played a border patrol agent after some killers. He finally teamed with Lee Marvin for
Death Hunt
(81), in which he was a solitary trapper in 1931 Yukon being pursued by Canadian Mounties for murder, but he and Marvin didn't really have any scenes together. This was a large budget action adventure picture and Bronson really was the no.1 action star by this point. But, it didn't make money.

Bronson changed tacks for most of the eighties in his collaboration with Cannon Films and director J. Lee Thompson - the films would be low budget and swiftly made, but Bronson would be high-priced ($1 million). These films followed a familiar pattern - brutal, even perverse killers, with Bronson as the antidote to the wrongdoing:
10 to Midnight
(83),
The Evil That Men Do
(84),
Murphy's Law
(85),
Messenger of Death
(88),
Kinjite:Forbidden Subjects
(90) and all the Death Wish sequels (4 in all). It could be argued that almost all of Bronson's films in this decade were developed on the Death Wish template, the crowd-pleasing theme of vigilantism. The message was that this was the best way - maybe the only way - to combat crime and sadism, and this theme was also prevalent in the films of Bronson's successors: Norris, Steven Seagal, Van Damme and so on.
Bronson capped off his career with a series of telefilms in the nineties, the
Family of Cops
trilogy of TV movies. He officially retired from acting in 1998 after undergoing hip replacement surgery. He suffered from Alzheimer's disease in his final years. Bronson's main legacy is a number of sixties & seventies films which showcased his weather-beaten, iconic visage of implacable determination - he showed that not only handsome actors can be a tremendous force in the movies. However, he might also be well known as the actor who has the most films with the word "death" in the title.