I've always been struck by how towering Heston appeared in his scenes with Franciscus in this film. It seemed like he was several inches taller than how he appeared in the first
Planet of the Apes
.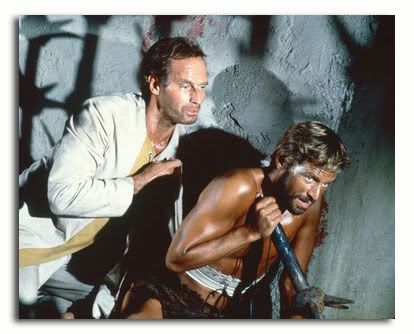 It's odd too - when I was a teen, I wrote by own juvenile version (I was young and an inexperienced writer) sequel to this film (
Beneath..
) and also illustrated it in comic book form. In my premise, Heston's character Taylor was returning alive yet again even after the destruction of the Earth and it was eventually revealed that he would continue to appear on a new Earth after each apocalypse, like some cosmic Flying Dutchman or Lazarus. I guess when I was younger, I had some wild ideas...
btw, I recall that a proposed sequel to Planet of the Apes may have been written by author Pierre Boulle, called
The Planet of Men
; that's the one where-in Taylor eventually led mankind to overcome the apes and became a kind of messiah (similar to his Moses, of all things
). I think the scope of this story stretched decades or even centuries further into the future. As we all now know, this premise was rejected in favor of what became
Beneath the Planet of the Apes
.