TIME TO ADD TO THIS THREAD...
This
Time
with...
The FLY
(from 1958)
Though this is best known for its horror, it also makes use of the sci-fi premise of teleportation, best known as the transporter system later employed as casual transportation on
Star Trek TOS
in 1966. In this film, a scientist (David Hedison, credited as Al Hedison) invents this mechanism for transporting matter instantaneously, but encounters a horrific mishap when he transports himself with, unknowingly, a common house fly. When he comes out the other end, he has the head and claw of a fly. The fly, meanwhile, flies off with his head and arm (greatly miniaturized).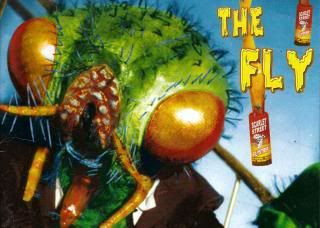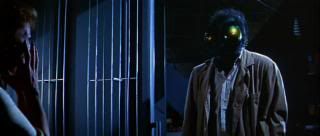 This is in color and is quite faithful to the original short story - its takes place in France. The middle of the film is a flashback to the fateful events. Vincent Price plays the scientist's brother. It's a striking combo of sci-fi & horror. There was a sequel the next year, in b&w,
Return of the Fly
- not as good - and a Cronenberg remake in 1986.
HELP ME..!
HELP ME
Flies have to watch out for spiders... David Hedison became famous for his regular role on the TV series
Voyage to the Bottom of the Sea
and later as Felix Leiter in a couple of James Bond films, but many people still regard his role in this as a highlight of his career.
There was a book published only a few years ago,
The Fly at Fifty
, devoted just to this film.